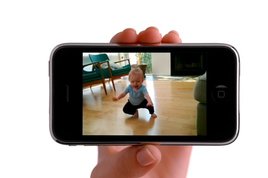 I'm not a very likely iPhone customer, but a recent commercial for these iconic gadgets struck close to home.
As always in these ads, a well-manicured hand displays the screen of an iPhone to the camera. We see footage of a tiny child taking a few awkward steps and then falling.
"My son started walking the other day, which was amazing," explains a female voice. She continues: "So I recorded it and sent it to everyone right away. And then we all jumped on the phone at once to talk about it, which was kind of amazing, too. We would never have shared all that without the iPhone."
I'm not sure how "amazing" the family conference call sounds (in case anyone in my family is wondering, it's "conference" and not "family" that is the sticking point), but that final sentence rings true for Amy and me.
Our first child was born in September here in Missoula, where we live more than 1,000 miles from the closest relative on either side of the family (2,500 miles from either set of our new son's grandparents).
And—while I'm not a very likely iPhone customer—I do rely heavily on another pocket-sized gadget that makes it easy to capture and share the kinds of moments with our son that everyone involved would probably enjoy more in person.
The circumstance of having family members scattered across the map is a common one in our social circle. When we lived in Baltimore, some of our closest friends had moved there from family homes in Arkansas, Illinois, Louisiana, and Pittsburgh. Here in Missoula, one set of neighbors is assembled from North Carolina and Hawaii stock, respectively; another set hails from Utah.
Why do so many of us move away? Apparently we learn it by going to college. A 2008 survey of a nationally representative sample of U.S. residents by the Pew Research Center found that "three quarters of college graduates have moved at least once, compared with just over half of Americans with no more than a high school [education]." The study also found that college graduates move farther and more often than the non-college-educated.
One can easily think of some likely reasons for this. In the world of work, college and advanced degrees serve as mechanisms to filter out less qualified candidates, but increased specialization also narrows the range of appropriate job fields for the individual student. The further you progress, the less likely you are to find that the kind of job you want is just down the street in any randomly selected community. In general, you must migrate to certain large cities to find the job you have been training for.
If you started out near the right city, you'll end up near family.
Otherwise, it's Christmas Eve in the airport for you.
There's an intangible element that I think must also be considered about why the college-educated are so likely to move so far away from home. The Pew study confirms that a simple calculation concerning job availability is at the root of it for most of us—indeed, Amy and I moved to Missoula for a rare job opportunity in her field—but I think there is also a way in which living far from home and family is a signal of status and identity. While there are competing narratives, one of the life patterns that gets strong approval in this country is the one that takes you from the suburbs or a small or medium-sized town to college and thence to the urban professional class.
And the urban professional class, as everyone knows, spends Christmas Eve in airports.
Adventuring over the horizon is fun or can be made to seem so for a while, but who really benefits from the willingness of so many highly educated Americans to move wherever it takes to pursue job opportunities? Businesses love it, of course, because it gives them the widest possible pool of potential employees.
It's good for the economy, too, because splintered families can't as easily achieve what the business world calls economies of scale. A multi-generational or multi-branch concentration of family members can share cars, exchange child care, help out with elderly relatives, assist with home repairs, and so on. Spread those family members across the map, however, and you multiply the number of items and services that must be purchased from strangers.
Just like cancer, war, and traffic congestion, scattering families across the map is probably great for the GDP.
It doesn't seem so good for families and individual happiness, however. Have a kid and it gets extremely easy to see the drawbacks of being so far away from the rest of your family. This is true whether you are just a cheap bastard and want free baby-sitting, or whether you feel gnawing at you a distinct feeling that depriving young children and their grandparents of close, frequent contact is wrong and unnatural. Your biology knows that it takes a village or at least a clan even if you don't.
That's the main reason we are moving to the small West Virginia town where my parents live. If all goes according to plan—if our Missoula home would hurry up and sell—we'll be there in plenty of time for my parents to see Coen's first or pretty close to first steps in person.
And that really will be amazing.
Now based in Missoula, Montana after three decades on the coasts, Sutton is a freelance business writer and journalist. He writes the Missoula Notebook for the nationally-award-winning online news source New West, keeps a blog, and can be found on Twitter and Facebook. Click here for an overview of what Went West is all about.
---
This article is the copyrighted property of the writer and Communities @ WashingtonTimes.com. Written permission must be obtained before reprint in online or print media. REPRINTING TWTC CONTENT WITHOUT PERMISSION AND/OR PAYMENT IS THEFT AND PUNISHABLE BY LAW.