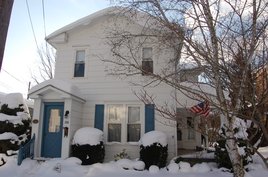 So far, I've put a lot of pixels on the screen concerning why I don't find city living as attractive as I once did. I've spent less time on what I like about the thought of small-town life. Obviously, the reason we've picked the specific town of Elkins, W.Va., is my parents live there, and there is something about the prospect of joining them that is taking some getting used to.
But it's not the thought of living in a small town that I'm wrestling with.
It's the realization that I actually like the thought of living in a small town.
I assume no one would be surprised if I said this move will have a lot of drawbacks, but that these drawbacks are outweighed by proximity to family—people make sacrifices like that all the time. But it's not the case for me right now. Although it's hard to imagine the sequence of events that would have brought us to a town like Elkins independent of the chance to get closer to family, I honestly can say I've reached a point in my thinking about this move where I could see us following through even if my parents announced tomorrow that they were moving back to D.C.
The main part of my excitement about moving to Elkins has to do with the baby we'll be bringing along. In the house we're hoping to buy there, my son Coen would grow up a few doors down from the city park. And even if I'd move to Elkins in my parents' absence at this point, I'm glad they aren't returning to D.C., because their house is on the other side of that park. With no busy streets to cross, Coen would be able to bike over for a visit by himself at a relatively early age.
Judging from the toys and play equipment in the yards of the surrounding houses, the neighborhood is full of children, and I love the thought of Coen having friends just a few doors or streets away.
In short, the neighborhood feels like a place where Coen can experience much of what I experienced during my elementary and middle school years in a Northern Virginia housing development with the unlikely name of Sugarland Run.
I've done some suburb-bashing in this space, but my ill feelings come entirely from the marooned feeling I experienced while living in suburban apartment complexes in the first half of my twenties.
When I think about my childhood years spent in housing developments, however, I have to admit that they bordered on idyllic. My friends and I wandered at will through each others' houses and ranged up and down safe, low-traffic streets on our bicycles. I walked to school and played in the woods that bordered one side of the development. On Halloween, most every house welcomed trick-or-treaters, and the streets were full of familiar faces, even if it took a minute to recognize them behind masks and makeup.
I remember being aware that my parents—who were at the time rather strongly oriented toward D.C. for both work and entertainment—felt a little marooned and culturally isolated. In the selfishness of youth, that didn't matter to me at the time, or maybe it's more accurate to say I didn't really understand how they felt. Who could complain about a place where it was so easy to get a kickball game going?
Now, of course, I'm more sensitive to what my parents' experience in Sugarland must have been like, so I'm glad that—in addition to the aforementioned aspects of how I think Elkins could appeal to a small child—there are dimensions to the place that will help make the place appealing to a grown-up, or at least this grown-up, anyway.
I've mentioned elsewhere that I know it's unrealistic to expect Elkins to mirror what I consider the attractions of a larger city.
Whatever it lacks in that area is well-balanced for me, though, not only by the ready availability of high-quality, opposite-of-the-city attractions like the nearby Monongahela National Forest, but also by the fact that—even if Elkins doesn't have any sushi restaurants—at least it has history and character. Elkins has become the place it is honestly, affected by the diverse and conflicting needs and ambitions of generations of citizens. In other words, unlike Sugarland, it wasn't a farm field 20 years ago, not to mention that there is a book store within walking distance of that house we're hoping to buy.
I'm also glad that, while Elkins is no city, it is at least an incorporated municipality with a mayor and other features and functions of local government. As I've gotten older, I've felt more and more of an itch to get involved with my community. Perhaps not everyone would agree, but I find the idea of doing so a lot more appealing in a community that exists on a small, more human scale, if only because the effects of my contributions will be easier to see and evaluate.
My mother has already gotten involved with civic projects in Elkins. I expect to get sucked in, too, and part of what I fantasize about for my son's early years is that he will grow up not only with the sense that the texture of a place's civic life is every individual's responsibility but also with the sense that it is his right to expect that texture to be positive and healthy and to work to change it when it is not.
If we live in Elkins long enough for Coen to leave for college from there—if, in fact, that's what he chooses to do—and if he ends up following a similar life pattern to that of his parents and both sets of grandparents (i.e., ending up far, far away from where he started out), at least he will have had the experience of how things can be—like looking at a scale model before trying out the real thing, a real thing too complex to be easily understood in the way I'm describing here.
I'll admit some of these hopes are naive; I'm sure I'll find some downsides to Elkins once we move there. But that's life. For now, I'm focused on the positive, and I can't wait to get started.
Now based in Missoula, Montana, after three decades on the coasts, Sutton is a freelance business writer and journalist. He writes the Missoula Notebook for the nationally-award-winning online news source New West, keeps a blog, and can be found on Twitter and Facebook. Click here for an overview of what Went West is all about.
---
This article is the copyrighted property of the writer and Communities @ WashingtonTimes.com. Written permission must be obtained before reprint in online or print media. REPRINTING TWTC CONTENT WITHOUT PERMISSION AND/OR PAYMENT IS THEFT AND PUNISHABLE BY LAW.