OKLAHOMA CITY — They had a good run.
The MTV rite of autumn for the past 26 years has been the Video Music Awards show. Every September since 1984, the most relevant property in the history of cable television took to the stage to showcase its unique gross national product, the music video.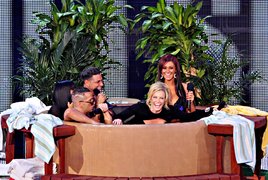 Then something funny happened. The landscape of music consumption completely turned on its head. Peer-to-peer music-sharing sites popped up and began filling Internet users' libraries with gigabytes and gigabytes of free music. Napster and several other wannabes sparked a music industry shake-up that forever changed the way consumers listened to, purchased and consumed popular music.
By April 2003, iTunes began selling albums and individual tracks in digital format through its online music store. And iTunes did it with a brilliant price point of under a buck, causing another catastrophic shift in the public's music mentality. In 2003, Time magazine even crowned iTunes the "Invention of the Year."
Cassette tape and CD singles, as a concept, never really took off with the public. But people loved the idea of downloading their favorite Black Eyed Peas MP3s rather than buying full albums. At MTV, music videos became less and less of a focus.
As early as the mid 1990s, viewers complained of the lack of videos and the influx of original and scripted programming. "Total Request Live," hosted by Carson Daly, was a monster and cornerstone program for MTV in the early 2000s. By the end of the decade, "TRL" was no longer on air, and the amount of video played had dropped from about 10 hours a day to five.
Today, the music videos MTV does play have been relegated to the overnight hours of 3 a.m. to 8 a.m. I don't know when exactly MTV stopped playing videos regularly, but I'm completely OK with it. I wholly enjoy "The Real World" and all of the "Challenge" shows, and I truly think that "Teen Mom" is one of the best reality programs on television.
Sometime around 2008, MTV redesigned its classic, block-letter logo and removed "Music Television" from the station branding. It seems it was about that time when it also removed music television from the station's airwaves and focused on being a pop-culture cable channel dedicated to delivering youth-aimed programming, which is more viable than playing videos during the majority of its schedule.
The question is more obvious this year than any other. Why is MTV still producing the VMAs when it doesn't play videos?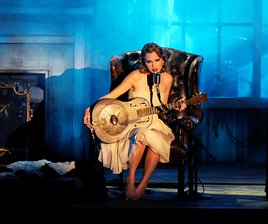 MTV started producing the VMAs as a more hip version of Grammys — complete with relevant-to-youth superstars and relevant-to-youth music and performances. This year, the only video with which I was familiar was Lady Gaga's "Telephone," and that was only because it was such a YouTube sensation and not because I saw it on MTV.
I don't mind that MTV airs a music video award show, but I mind when it airs a bad one. And this year's was as bad as I can remember. A year later, and the world is still focused on the Kanye West-Taylor Swift incident. Who cares? I didn't think it was that big of a deal that West interrupted Swift during her acceptance speech for best female video in 2009. And, I really wasn't concerned with the status of their reconciliation 12 months later.
The rigid and brusque, late-night chat-show host Chelsea Handler hosted this year's show. She decided to go with a jarring, half-female-shock comic, half-insult comic approach for her hosting style, but it was done with about as much charm as a DMV clerk.
The physical staging and the set looked pretty cool, but Los Angeles just doesn't have the same feel. MTV is so uniquely New York. L.A. seems so "L.A."
The live lineup was not very interesting, save the Florence and the Machine performance, which I thought was different in a compelling way.
Usher, Eminem, Drake and Justin Bieber all had terribly typical and robotic performances. All seemed like they were just going through rock-star motions on stage. Swift and West's separate performances were so dreadfully uneventful and boring that they would have fit right in at the Grammys (all except for West's filthy language).
The guests and presenters were also of less-than-stellar stature this year. In the heyday of the event, the who's who of show business attended. Back then, the biggest names in both movies and music were on hand — stars big enough that my parents even recognized them. If I had watched this year's VMAs with my folks, they'd probably have about a 0.150 cultural-recognizability batting average.
There were even a few people who I wasn't sure if I knew who they were, and I like to think that I'm pretty with it. Despite its lackluster reception critically (the New York Times said Handler was among the worst hosts in the show's history), the VMAs drew its highest audience in eight years. It was up 27 percent from 2009, and 11.4 million viewers is an outstanding number for a cable broadcast, especially in the DVR. age of anti-live-event, television-watching habits.
MTV still does a great job with its annual rite of summer, the MTV Movie Awards, but how long can it milk the redundant and downsized concept of the video music awards? The conceit, on its face, is no longer relevant. But people are still sticking around to watch it.
At around 12:05 a.m. Aug. 1, 1981, just after MTV's inaugural music video, "Video Killed the Radio Star" by The Buggles, MTV ran its first promo: "In the beginning was the music, but there was no one around to hear it."
As long as 11 million viewers stick around to watch it, the old MTV staple is here to stay.
-AH-
---
This article is the copyrighted property of the writer and Communities @ WashingtonTimes.com. Written permission must be obtained before reprint in online or print media. REPRINTING TWTC CONTENT WITHOUT PERMISSION AND/OR PAYMENT IS THEFT AND PUNISHABLE BY LAW.