It's really a sad day of revelation for me. Being a longtime supporter of MTV, I've watched nearly every single program the network has offered. MTV has been there my entire life, from "Remote Control" to "The Hills," I've watched them all.
After watching the premiere episode of the new original scripted comedy "The Hard Times of RJ Berger," I thought, for the first time, maybe I'm just too old for this.
Thankfully MTV is taking a chance on something other than reality programming, though I still love most of what they air.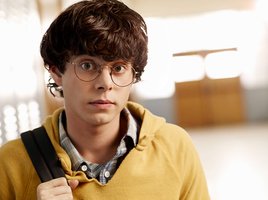 Paul Iacono plays the title role, a bespectacled, geeky high school sophomore at Pinkerton High who happens to be rather blessed below the belt.
The reveal comes when his basketball shorts unexplainably fall to his ankles after a game, before the student body and fans. After that, RJ is still a shy, socially awkward teen. The only difference is the girls start to look at him a little differently now.
RJ's chubby best friend Miles (Jareb Dauplaise) is like an over energetic Kyle Bornheimer ("Worst Week") or Jack Black knock-off. And his quirky, borderline stalker, female friend Lily (Kara Taitz) seems like rip-off of Kristen Shaal's character Mel from "Flight of the Conchords."
Amber Lancaster plays Jenny, the stunning blond "girl of his dreams," but guess what? She's dating Max, (Jayson Blair) the, you guessed it, superstar jock/school bully.
The show is full of double entendres, gross-out scenes, and bleeped curse words. In the first episode alone, six naughty words were bleeped and a number of less offensive swears went unfiltered.
To set the raunchy pace of the series, there were two scenes of the self-pleasuring nature within the first three minutes. I guess that type of bawdy humor and subject matter hits square in the wheelhouse of the post-puberty freshman and sophomore target audience.
The shame of it all is the show has potential. RJ and Jenny are likable and interesting. The rest of the characters are cardboard, Hollywood stereotypes.
The high school dynamic is a little too trite as well. The bully vs. the nerd, the snobs vs. the slobs yarn is plain played out.
Especially unrealistic bullies like Max, who reminded my of the goons from "I Love You, Beth Cooper." It was as if they were written by adults so out of touch with how teenagers interact with one another, I questioned if they had ever even met a teenager.
I really like the colors, staging, and aesthetic look of the show. Even the popular music used in the show is cool.
"Hard Times" would work just fine as a coming of age story about a nerdy kid finding himself as he navigates through the social difficulty of high school. It doesn't need the well-endowed gimmick. It doesn't have to mimic "Superbad" to be successful.
I get that it needs to be a little racy to get kids interested, remember "Undressed?" MTV may almost have something. Keep the cute chicks, forget the hook about his anatomy, and tone down the unoriginal raunchiness a few notches.
If I were a high school sophomore, I'd probably love it. I guess that just means I've finally outgrown MTV.
---
This article is the copyrighted property of the writer and Communities @ WashingtonTimes.com. Written permission must be obtained before reprint in online or print media. REPRINTING TWTC CONTENT WITHOUT PERMISSION AND/OR PAYMENT IS THEFT AND PUNISHABLE BY LAW.