Number 8 on Maxim Magazine's HOT 100 list, Olivia Munn has held the geek chic poster girl title since she joined the G4 Network's "Attack of the Show" in 2006.
Now, the 29 year-old Oklahoma product has a network pilot for set for the fall season and a new gig testing her reporter/comedy chops on another cable channel, Comedy Central.
Munn made her debut on Thursday's (6/3/10) episode of "The Daily Show" as "Senior Asian Correspondent" reporting on the BP oil fiasco, only to be interrupted by the show's stable of correspondents, Samantha Bee, Wyatt Cenac, Jason Jones, Aasif Mandvi, and John Oliver.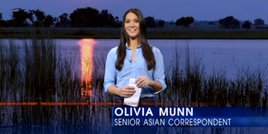 For her first foray into late night satire was sort of hard to rate on a comedic level. Although, looks wise, she was strikingly muted, and I guess, so was her comedy.
Unfortunately, she played the role of the straight man, so other than hitting her marks and remembering lines, there wasn't much to judge. But, she defiantly piqued my interest.
I've never would have thought of her as a potential correspondent, but I like what she has to offer. Hopefully we'll see more of her in this off-season leading up to her yet unassigned NBC sit-com, "Perfect Couples" in the fall.
She's billed as the lead in the recently green-lit network comedy about the misadventures of three engaging couples. And just look at this sit-com's pedigree; Jon Pollack ("30 Rock") and Scott Silveri ("Friends") are executive producing while "Seinfeld's" house director Andy Ackerman directs.
But until then, I'd like to see Munn get another shot on "The Daily Show", and next time, let's see what she's really got.
---
This article is the copyrighted property of the writer and Communities @ WashingtonTimes.com. Written permission must be obtained before reprint in online or print media. REPRINTING TWTC CONTENT WITHOUT PERMISSION AND/OR PAYMENT IS THEFT AND PUNISHABLE BY LAW.