OKLAHOMA CITY - From the first episode of the season it was clear who the front-runner was. It would've taken a miracle for anyone to upset Nicole Scherzinger to take home the "Dancing with the Stars" glitterball trophy.
The rest of the season played out with few surprises. America still hates Shannon Doherty and Pamela Anderson, and of course Kate Gosselin is terrible on the hardwood. But who would have thought Erin Andrews could catch on so quickly?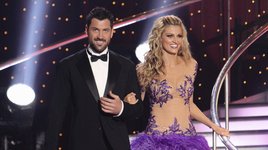 Controversy aside (Elisabeth Hasselbeck), gossip magazine relationship rumors with her partner Maksim Chmerkovskiy, and the obvious, unfair challenge of facing off against, for the sake of argument, two professional dancers in Nicole and Derek, Erin won the hearts of viewers and finished in second place.
Before "DWTS," Erin was already the most recognizable face on the sidelines. She joined ESPN in 2004 clocking time on "College Football Saturday," "Saturday Primetime" college basketball games, and Big Ten NCAA basketball coverage.
In '05, she added Major League and college baseball sideline reporting to her repertoire. And she covered her first Scripps National Spelling Bee as a reporter in 2008.
After she danced her way to national exposure to the rest of the non-sports watching world, surely she won't return to the smaller spotlight of sideline reporting, will she?
Here are a few ideas.
Replace Brooke Burke on "Dancing with the Stars." Brooke is really not that great. She's doesn't read the prompter very smoothly, and when she has to go off prompter, it's even shakier. Erin is pretty quick and even funny, this post would stifle her personality and turn her into a ten-second ABC promo reading robot…Brooke Burke.
"The View" already has a cute blond, but the CBS version doesn't. CBS is filling the empty "As the World Turns" slot with a "View" like female panel discussion show lead by Julie Chen, Leah Remini (King of Queens), Sara Gilbert (Rossane), Holly Robinson Peete and Sharon Osbourne. The network is pitching the show as "moms talk about current events." OK, since Erin is not a mom, maybe this won't work.
American Idol. This is not a good idea, but it's a nice recovery to a really awful idea. There's been talk of filling Simon's judge's chair with current host Ryan Seacrest. I know, I told you it was an awful idea. But if that happens, slide Erin into Ryan's job. It's a perfect fit. Heck, even if they do find a better replacement for Simon, I'm not opposed to the idea of reassigning the hosting duties to Erin. Seacrest has plenty of things to occupy his time with anyhow.
Entertainment Reporter. There are a number of tabloid type, gossipy news magazine programs to choose from, but that's really a lateral move for her. Reporting on in-game injuries and asking head coaches how to stop opposing offenses, is not much of a step up from delivering feverishly corny headline teases about Lindsay Lohan and John Gosselin.
Good Morning America. Easy fit. Erin could slide right in. I could see her doing in-studio interviews, cooking segments, funny physical gag bits, and even the occasional serious, in-depth feature package.
This next idea needs to happen.
The next Bachelorette. By far the best idea. She stays within the ABC/ESPN/Disney family so she could do multiple jobs for different networks all while handing out roses to potential suitors. This would be a game changer. Guys vying for the love of an already recognizable celebrity brand, imagine the possibilities.
The dates would be bigger and better, more notable musical guests, movie promotional crossover possibilities, better drama, and not to mention all of the "Erin Andrews in a hot tub" situations.
I'm telling you, this idea is golden. Simply brilliant. Now, that would be a "Bachelorette" season I wouldn't complain about having two-hour episodes.
---
This article is the copyrighted property of the writer and Communities @ WashingtonTimes.com. Written permission must be obtained before reprint in online or print media. REPRINTING TWTC CONTENT WITHOUT PERMISSION AND/OR PAYMENT IS THEFT AND PUNISHABLE BY LAW.