Now this is an Easter Egg!
Lost is up for its final season, when all things shall be answered, next week! Yes, I'm beside myself with anticipation. My take? Some of those folks will be revealed as some sort of demi-god time travelers or something in a race to close a secret portal that would open the world to destruction. Or something like that.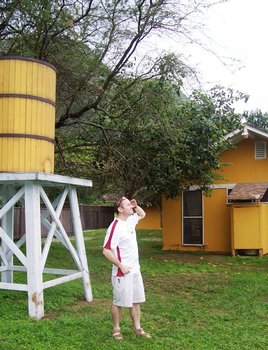 Or Not.
Anyway, in the hype machine, and in true Lost fashion, there are "hidden" Easter Eggs out there.(anyone remember the Hanso Foundation site?) One cool trick has been found by social media site Mashable.
If you book a flight on the travel site Kayak from Sydney to LA, you'll get an option for Oceanic flight 815, the flight that crashed.
That's pretty cool. I did it, it works. Here's the Mashable article with some pix.. It takes some doing, the fight is priced way high, like $4,800. But if you poke around, you'll find it!
Meantime … Yes, I'm a Lost fan. Last year on a trip to Hawaii, went to the village of the "others," it's a YMCA camp on the North Shore. They were very cool and let the wife and I walk around, most excellent. I made a video (because I'm a dork!)
---
This article is the copyrighted property of the writer and Communities @ WashingtonTimes.com. Written permission must be obtained before reprint in online or print media. REPRINTING TWTC CONTENT WITHOUT PERMISSION AND/OR PAYMENT IS THEFT AND PUNISHABLE BY LAW.