Spies don't come any cooler …
Than Michael Weston (Jeffrey Donovan) in USA's Burn Notice. The season started up again last night, and what can you say about a show that's virtually perfect? (Okay, last night Donovan's southern accent was attrocious, and he displayed an absolute inability to spit convincingly with a supposed lump of snuff in his lip, but otherwise, perfect).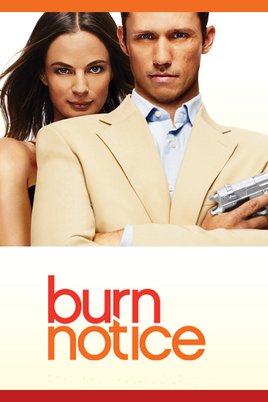 Since the summer of 2007 when it launched as a quirky story of an ex-CIA agent stuck in Miami with no identification, money or prospects, Burn Notice has been a can't miss show in the TV Den. Donavan's suave and vaguely amused spy is matched perfectly with his beer-swilling, yet effective FBI buddy Sam (Bruce Campbell), pyromaniac on-again, off-again girfriend Fiona (Gabrielle Anwar, hubba hubba) and best of all, his chain-smoking mom, Madeline (Sharon Gless from Cagney and Lacey).
The story is refreshingly simple with a formula that works. Each season there's some kind of mystery (usually revolving around who "burned" Michael and forced him out of the CIA) and each episode Michael takes some kind of odd job helping a despaerate person out of a jam. It's a tight, consistent cast supported by sharp writing and a few fisticuffs. Michael's voice-overs at tense moments are a hoot.
The season opener this week had a little extra fun, a guest role for Tyne Daly, Gless' partner from Cagney and Lacey. A nice nod to fans of old cop shows (since Gless also appeared in the Rockford Files, it'd be great to see James Garner pop in, the TV Den says! Producers, get to work!)
You lump Burn Notice in with other basic cable fare, Mad Men, Men of a Certain Age, Nip/Tuck and now Southland on TNT (Man, with that gaping hole at 10 p.m. in its lineup, I'll bet NBC execs feel like dopes for letting that one slip away) and you can hardly remember the days when TBS was "The Superstation" showing Gilligan's Island reruns and Crazy Eddie commercials (He's not crazy, he's INSANE!)
(For a little extra credit, check out this MediaWeek story about how Hyundai wriggled its way into the show as a paid product placement)
---
This article is the copyrighted property of the writer and Communities @ WashingtonTimes.com. Written permission must be obtained before reprint in online or print media. REPRINTING TWTC CONTENT WITHOUT PERMISSION AND/OR PAYMENT IS THEFT AND PUNISHABLE BY LAW.