Four Movies That Would Make Better TV Shows …
So of the 10 nominees for best picture, four would probably have made better TV series. A friend who read the book The Blind Side (yeah, like I read, get real) tells me she felt the movie trivialized the story by packing it into a compressed frame … and so it goes. Here are four of the 10 nominees acclaimed as movies, but could have been fantastic TV shows (let's not forget, Friday Night Lights was an epic book — okay, I did read that one — and then a mediocre movie, and then a fantastic television series).
District 9: The movie moves along like it's on meth. "Okay, there's this ship and these aliens and they're stupid but then they're smart and they're sad and then this guy he turns into one and then like there's these mean people and a bad corporation, and … and … and!!!" Relax, let the story sink in, let us marvel at the ship, wonder about the aliens, care about the hero. Paging Mr. Abrams, Mr. J.J. Abrams ….
Network: ABC
Star: Josh Holloway (Sawyer from Lost)
Villain: William Fichtner (creepy Sheriff Underlay from Invasion)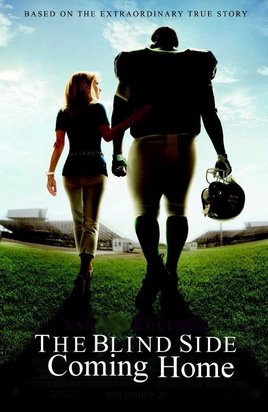 The Blind Side: Aw, c'mon, when's the last time you saw a good movie about football? Maybe Bruce Willis in The Last Boy Scout. But TV shows about football? Now we're talking. Lots of emotional stuff and a female lead, plenty of room for preachy "children are our most precious asset" stuff. This would be a great TV show.
Network: NBC (they'll run anything at 10 p.m., trust me!)
Star: Sandra Bullock (Unless Miss Congeniality 3: Making Nice is in the works)
Villain: James Spader (Boston Legal) as the snarky, ruthless superintendent.
Avatar: Even at 4 hours and 20 minutes running time (or something like that) it left plot holes big enough to fly a 3D dragon through. The series allows time to show a devastated planet earth desperately in need of "unobtanium" (you think I'm making that up?) and develop the conflict of hurting an alien race versus saving the human race.
Network: Discovery 3D … yes Discovery is launching a 3D TV channel!
Star: David Caruso (From CSI:Miami, he already looks like an alien!)
Villain: Jimmy Smits as the ruthless corporate boss (From … uh, well .. what's he been in lately?)
The Hurt Locker: Steven Bochco tried a war on terror show a few years ago, Over There. It was really good. But it was too soon. America's ready for an Iraq drama now. Show me the daily life of a soldier in that conflict, how much it hurts to be away from home, how good the little victories feel. Make this war human again, and maybe America will start to care again and think about the folks "over there."
Network: FX
Star: Harold Perrineau (Walt's dad on Lost) as "Sarge."
Villain: Randy Quaid (from a stint in jail) as the manipulative TV News producer
… And there you have it. Four Oscar nominated movies that would be far better as TV shows.
Because TV rules.
---
This article is the copyrighted property of the writer and Communities @ WashingtonTimes.com. Written permission must be obtained before reprint in online or print media. REPRINTING TWTC CONTENT WITHOUT PERMISSION AND/OR PAYMENT IS THEFT AND PUNISHABLE BY LAW.