Forget Sweeps, This is Better!
One of the true joys of the depths of winter is reading the trade mags, trolling the press releases and hearing from the publicists. It's Pilot Season!
February is when nets decide what concepts to greenlight — that is cough up some dough for a writer/studio partnership to create a "pilot," an example of the show put to screen for execs to consider. What will come next is network types will try to pick winners (or at least something that sucks less than the show they're canceling) that they can pimp to advertisers in May in NYC at a weeklong series called "upfronts" when they try to sell most of their advertising space.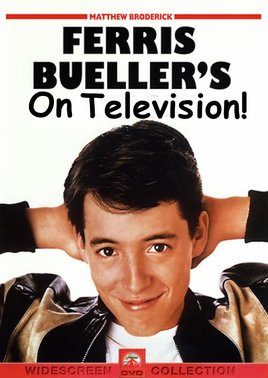 Then, we get teased by the shows that made the cut all summer, and in September, we see 'em. And many die.
Like Better Off Ted (buh bye). Getting to make a pilot, or even getting "picked up" is no guarantee. I've been most disappointed to hear a post apocalyptic (there it is again, I love that stuff) show called Day One on NBC was supposed to start in March, but nah, not so much. We might see a two hour "movie" version, the net says. Even that, I take at 50-50.
So what are they talking about in the trades? What's in the pipeline?
Okay … Most excited about:
Matthew Broderick in an NBC laugher, rumored to be called Beach Lane. See Matt's a famous writer hired by a rich guy to save a struggling small-town newspaper in a rich Long Island enclave. (Hey, it could happen, rich guys screw up all the time by buying fading newspapers … ask Sam Zell!)
But also …
A remake of Hawaii Five-O on CBS (maybe we'll see someone of Hawaiian descent, instead of a white guy in the lead role? Nope, Alex O'Loughlin from this past season's stinker Three Rivers)
Beefy Brian Dennehy (what Joe Don Baker was busy?) in what's either a drama or comedy called Odds about a guidance counselor son and his stubborn old retired football coach father.
Matadors, about two feuding families, one's a bunch of criminal defense rich lawyers, the other is a bunch of prosecutors. And then, wouldn't you know it, two of the young'uns fall in love. What will happen next?
A Fox sitcom called Strange Brew about a family that brews beer. Say, I think there already was a movie about making beer called Strange Brew … right?
True Blue, about a bunch a friends who are cops who work together to solve the death of another friend cop. 'Cause there aren't enough cop shows. Angst ensues.
Hitched, a CBS comedy about a young couple who get married and struggle through those early years. Wow, what a great concept, I've NEVER heard of this idea before!!
Speaking of which, Friends With Benefits … a bunch of cute twentysomethings who are looking for love, but in the mean time sleep with each other, man, they didn't even bother to drop "Friends" from the title!
Traffic Light (Fox), guy and his new squeeze move into a house they have to share with the guy's two pals (and one of them's an incurable ladies man, ooooh!)
Chaos, rogue operatives ticked off at the mismanagement of the CIA … and Nomads, about young backpackers who are forced to work secret missions for the CIA … and Undercovers, about a married couple who work as spies (maybe for the CIA?)
Not to mention Nurture, about a smart doctor reunited with his family of misfits he left behind when he was adopted 30 years ago … And an as yet untitled CBS drama about smart doctors who travel the country looking for desperate people to operate on to save them (I guess they hold a medical license in every state, "If you need them, and you can find them, they are … the DR-Team!")
And to end on an up note, another one that might not suck. Steven Spielberg is supposedly working hush hush with Fox on a show called Terra Nova about a family that goes way, way back in time and lives with dinosaurs. Look out, Sleestacks!
… Hang on, we're just getting started. More to come! Can't wait to see what shakes out (hang in there Matthew Broderick!)
---
This article is the copyrighted property of the writer and Communities @ WashingtonTimes.com. Written permission must be obtained before reprint in online or print media. REPRINTING TWTC CONTENT WITHOUT PERMISSION AND/OR PAYMENT IS THEFT AND PUNISHABLE BY LAW.