Really now …
I have a saying for all my friends who enjoy "hunting," that is, ambushing deer with a rifle (to me, hunting would be you, wearing nothing but a loin cloth, taking down a deer with your bare hands. Do that, and I'm impressed) … They tell me it's all about that delicious venison. Right. If venison tasted any good, they'd sell it at the Safeway.
That's how I feel about the Winter Olympics. There's a ton of hype, talk of the "beauty of sport," and then a bunch of competition in sports that you would never in a million years watch on a regular basis! Not that they're all without merit, watching skiing can be fun. Hockey is fun (oh, wait, that's a real sport) But …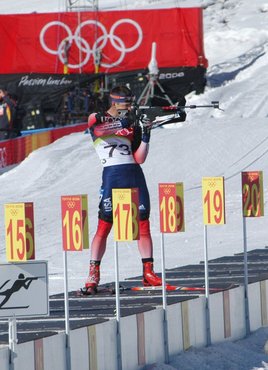 Five Winter Olympic Sports That Should Encourage You To Watch CSI:Miami :
5. Short Track Speed Skating: How often would you tune in to watch people with bulging thighs and skin-tight suits slide around on ice if network marketers hadn't turned watching these games into some sort of patriotic duty? Name one current speed skater not named Apolo.
4. Bobsledding: Bunch of guys pile onto a toboggan. It's like me and my friends at the golf course back in the '70s when we had a snow day.
3. Curling: Sort of like shuffleboard. (I know! Right?) And to think, "mixed doubles curling" was rejected as a sport this year. Is there no justice? (I'm not making that up).
2. Luge/Skeleton: Sliding feet first or head first, it's still sliding in an ice tube for no apparent reason. I'm very sorry for the family of the guy who was killed in practice, and I mean that. But as a sport? Like, does anyone EVER do this at any other time than the Olympics? Does this sport have "fans?" (Oh, I know, "It's the NASCAR of winter sports!")
1. Biathlon: Combining two of the world's most exciting spectator sports, cross-country skiing and shooting a rifle at dinner plates.
You can check out all the fun, including a thoroughly inscrutable TV schedule of events, at NBC.com, but if you want to watch video "highlights" you have to download some new, Microsoft software. Because, you know, just putting the video on the Internet and making it easy would never work!
---
This article is the copyrighted property of the writer and Communities @ WashingtonTimes.com. Written permission must be obtained before reprint in online or print media. REPRINTING TWTC CONTENT WITHOUT PERMISSION AND/OR PAYMENT IS THEFT AND PUNISHABLE BY LAW.