Eds note: For a movie guy's take on a TV show's take on a movie, we turn to Communities' film critic, Mr. Christian Toto from Movies in Toto, take it away, Mr. Toto:
Family Guy isn't done deconstructing the Star Wars trilogy …
Family Guy: Something, Something, Something Dark Side
, out this week on DVD and Blu-ray, takes aim at the second film in the beloved space saga,
The Empire Strikes Back

.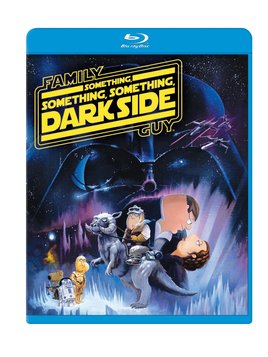 Dark Side, like Blue Harvest before it, uses actual Star Wars music and audio effects to enhance its satirical swipes. But your affection for this Dark Side relies heavily on an appreciation for the source material and ability to withstand more silly segues from the minds behind the popular Fox series.
Young Luke (
Chris Griffin
) is laid low by an ice creature who looks suspiciously like the
Cookie Monster
while the rebel forces are under attack by those elephantine robots. Meanwhile, Han Solo (
Peter Griffin
) is trying to help Luke out while dealing with his emotions for
Princess Leia
(
Lois Griffin
).
Oh, you know the whole Empire story by heart at this point, but Dark Side sticks closely to the source material all the same. It still manages to break free long enough to riff on "nerf herders" - "you can't use that word … only we can use that word," says Han - and other juicy targets.
The gags here come at you at
warp speed
with the show's standard hit-to-miss ratio. But it's the
vocal performances
that
seal the deal
. Casting
Stewie
as Lord Vader is an inspired touch.
"Dark Side" isn't as uproarious as
Blue Harvest,
and some of the pop culture references like a
Juicy Fruit
ad are painful to behold. But any comedy that squeezes scenes of
Dolph Lundgren
training from
Rocky IV
into the mix deserves a healthy huzzah.
The disk includes a commentary track as well as a peek at a third Star Wars parody courtesy of a table read snippet.
It's hard to imagine even die-hard
Family Guy
fans clamoring for parodies of the
Star Wars
prequels, but who wouldn't want to see Stewie and co. mock the
Ewoks
from
Return of the Jedi

?
---
This article is the copyrighted property of the writer and Communities @ WashingtonTimes.com. Written permission must be obtained before reprint in online or print media. REPRINTING TWTC CONTENT WITHOUT PERMISSION AND/OR PAYMENT IS THEFT AND PUNISHABLE BY LAW.