"Death, taxes and childbirth! There's never any convenient time for any of them." Margaret Mitchell put that line in her 1936 classic, Gone With the Wind. Ben Franklin wrote, "In this world nothing can be said to be certain, except death and taxes." Humans have come to expect some level of taxation regardless of where they live. It seems Europeans have a very high tolerance for taxation, but Americans have, and hopefully always will abhor excessive taxation. The growing "Tea Party" movement is a modern day revolt against government gone wild with spending and taxing. In the 11th Century Anglo-Saxon Lady Godiva made her famous "bare back" ride through the streets of England in protest of the high taxes levied by her husband, the Earl of Mercia, on the people. Could Mrs. Obama ever be so compassionate? Probably not, so it's time for us to elect some responsible adults willing to step up and apply some wisdom to the management of our country.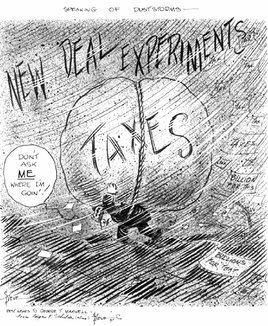 It is debt and irresponsibility that's driving politicians to more taxation schemes. The founders of America equated debt to slavery. Debt is borrowing against the future; an exchange of present advantage for a future obligation requiring return of the original funds plus compensation to the lender, writes Cleon Skousen in the 5000 Year Leap. Ben Franklin said, "… Think what you do when you run in debt; you give to another power over your liberty." Thomas Jefferson said, "I, however, place economy among the first and most important of republican virtues, and public debt as the greatest of the dangers to be feared." Ours is the first American generation to leave an unwieldy debt to our children. More insidious forms of taxation are not the answer. Less spending on entitlements and through earmarks is the place to start.
Beware of those dreaming of a Europeanized America who say things like, "Oh, we pay much less tax than in Europe." Your response should be," Yes, and let's keep it that way." We hold our own though. The United States has the fourth highest corporate income tax rate of the 30-nation Organization for Economic Co-operation and Development. The combined U.S. federal and average state rate of 40 percent is almost 9 percentage points higher than the average OECD top corporate rate of 31.4 percent. Only Belgium, Italy, and Japan have higher rates than that of the U.S.
In the United Kingdom there's a 40 percent personal income tax and a 17.5 percent VAT. Italy boasts a 45 percent personal income and 20 percent VAT. The now street rioting citizens of a very bankrupt Greece enjoy a 40 percent personal income tax and 19 percent VAT. The VAT is being "floated" by the Obama Administration and Progressive members of Congress as the way forward. What's a VAT? It's a value-added tax collected at every stage of the production and distribution of goods and services as they are sold, resold, or value of any form is added. A VAT is quite similar to a national sales tax. That would be on top of state and local sales taxes.
Below is a brief history of the U.S. Tax System compiled from the U.S. Treasury website and the Tax Foundation.
The nation had few taxes in its early history. From 1791 to 1802, the United States government was supported by internal taxes on distilled spirits, carriages, refined sugar, tobacco and snuff, property sold at auction, corporate bonds, and slaves.
The income tax came to be under the guidance of one of our most misguided Presidents: Woodrow Wilson. In 1913, the 16th Amendment to the Constitution made the income tax a permanent fixture in the U.S. tax system. The amendment gave Congress legal authority to tax income and resulted in a revenue law that taxed incomes of both individuals and corporations.
Prior to the enactment of the income tax, most citizens were able to pursue their private economic affairs without the direct knowledge of the government. Individuals earned their wages, businesses earned their profits, and wealth was accumulated and dispensed with little or no interaction with government entities. The income tax fundamentally changed this relationship, giving the government the right and the need to know about all manner of an individual or business' economic life.
In fiscal year 1918, annual internal revenue collections for the first time passed the billion-dollar mark, rising to $5.4 billion by 1920. With the advent of World War II, employment increased, as did tax collections—to $7.3 billion.
The withholding tax on wages was introduced in 1943 and was instrumental in increasing the number of taxpayers to 60 million and tax collections to $43 billion by 1945.
FDR ushered in the Social Security system which remained essentially unchanged until 1956. Then Congress began to add more and more entitlements: 1956 - Disability Insurance benefits; 1958 - benefits extended to dependents of disabled workers; 1967 - disability benefits extended to widows and widowers; 1972 - amendments provided for automatic cost-of-living benefits.
In 1965, Congress enacted the Medicare program, providing for the medical needs of persons aged 65 or older, regardless of income. The 1965 Social Security Amendments also created the Medicaid programs which provide medical assistance for persons with low incomes.
The expansions of Social Security and the creation of Medicare and Medicaid required additional tax revenues, and thus the basic payroll tax was repeatedly increased over the years. Between 1949 and 1962 the payroll tax rate climbed steadily from its initial rate of 2 percent to 6 percent. The expansions in 1965 led to further rate increases, with the combined payroll tax rate climbing to 12.3 percent in 1980. Thus, in 31 years the maximum Social Security tax burden rose from a mere $60 in 1949 to $3,175 in 1980.
Despite the increased payroll tax burden, the benefit expansions Congress enacted in previous years led the Social Security program to its acute funding crises in the early 1980s. Congress legislated an increase in the payroll tax rate to 15.3 percent in 1990. Between 1980 and 1990, the maximum Social Security payroll tax burden more than doubled to $7,849.
In 1981, under President Reagan the Congress enacted the largest tax cut in U.S. history, approximately $750 billion over six years. The tax reduction, however, was partially offset by two tax acts, in 1982 and 1984, that attempted to raise approximately $265 billion.
On Oct. 22, 1986, President Reagan signed into law the Tax Reform Act of 1986, one of the most far-reaching reforms of the United States tax system since the adoption of the income tax. The top tax rate on individual income was lowered from 50% to 28%, the lowest it had been since 1916.
The corporate tax rate was reduced from 50 percent to 35 percent. The number of tax brackets was reduced and the personal exemption and standard deduction amounts were increased and indexed for inflation, thereby relieving millions of taxpayers of any Federal income tax burden. However, the Act also created new personal and corporate Alternative Minimum Taxes, which proved to be overly complicated, unnecessary, and economically harmful.
Tax preferences were eliminated to make up most of the revenue. In an attempt to remain revenue neutral, the act called for a $120 billion increase in business taxation and a corresponding decrease in individual taxation over a five-year period.
President Clinton signed the Revenue Reconciliation Act of 1993 to reduce by approximately $496 billion the federal deficit that would otherwise accumulate in fiscal years 1994 through 1998. In 1997, Clinton signed another tax act. The act, which cut taxes by $152 billion, included a cut in capital-gains tax for individuals, a $500 per child tax credit, and tax incentives for education.
By 2001, the total tax take had produced a projected unified budget surplus of $281 billion, with a cumulative 10 year projected surplus of $5.6 trillion. Much of this surplus reflected a rising tax burden as a share of GDP due to the interaction of rising real incomes and a progressive tax rate structure. Consequently, under President George W. Bush's leadership the Congress halted the projected future increases in the tax burden by passing the Economic Growth and Tax Relief and Reconciliation Act of 2001.
The centerpiece of the 2001 tax cut was to regain some of the ground lost in the 1990s in terms of lower marginal tax rates. The rate reductions were to be phased in over many years resulting in a reduction in the top tax rate from 39.6 percent to 33 percent. Most of these cuts are expiring in 2011.
The 2001 tax cut expanded the Per Child Tax credit from $500 to $1000 per child. It also increased the Dependent Child Tax credit. It put the estate, gift, and generation-skipping taxes on course for eventual repeal. It was devoid of business tax provisions.
Cartoon credit: "Speaking of Dust Storms"
Artist: Edgar F. Schilder
Location: Library of Congress, Prints and Photographs Division
Technical and creative writer, Carla G. Harper follows current events with one eye on history and one eye on the future. Her goal is to encourage people to think critically about what's going on, both around them and in their lives. Follow Carla at Twitter: CarlaGHarper
---
This article is the copyrighted property of the writer and Communities @ WashingtonTimes.com. Written permission must be obtained before reprint in online or print media. REPRINTING TWTC CONTENT WITHOUT PERMISSION AND/OR PAYMENT IS THEFT AND PUNISHABLE BY LAW.