By Carla Harper
A holiday called Thanksgiving is uniquely American. Thanksgiving is an enduring symbol from which millions of immigrants have learned "Americanism," according to the Pilgrim Hall Museum (www.pilgrimhall.org). In spite of a view among some Native Americans that those first Thanksgivings represented a stealing from their ancestors, the story of Pilgrims and their Native neighbors sharing in a harvest celebration is an enduring part of the inspiration that brings families and friends together around the table each year.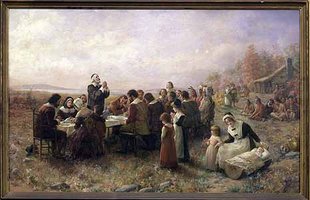 Celebrating a successful harvest was a custom brought to America by the English and Dutch, and it was a very religious event designed to thank God for their bounty. The first Thanksgiving is remembered as a gathering of about 50 surviving Plymouth Pilgrims and 90 or so Wampanoag Indians in 1621.
Abraham Lincoln began the tradition of an annual national Thanksgiving in 1863.
But, this practice among American Presidents and the people did not occur, until an earnest and accomplished New Englander, Sarah Josepha Hale made it her lifelong crusade through publish of numerous books and as editor of Godey's Lady's Book. Hale also wrote and published the famous poem, Mary Had a Little Lamb.
She said, "[It] is considered as an appropriate tribute of gratitude to God to set apart one day of Thanksgiving in each year; and autumn is the time when the overflowing garners of America call for this expression of joyful gratitude."
In her novel, Northwood, published in 1827, she wrote words that to this day conjure an image of a proper Thanksgiving to Americans.
"The table, covered with a damask cloth, vieing in whiteness, and nearly equaling in texture, the finest imported, though spun, woven and bleached by Mrs. Romilly's own hand, was now intended for the whole household, every child having a seat on this occasion; and the more the better, it being considered an honor for a man to sit down to his Thanksgiving dinner surrounded by a large family. The provision is always sufficient for a multitude, every farmer in the country being, at this season of the year, plentifully supplied, and every one proud of displaying his abundance and prosperity.
The roasted turkey took precedence on this occasion, being placed at the head of the table; and well did it become its lordly station, sending forth the rich odor of its savory stuffing, and finely covered with the froth of the basting. At the foot of the board, a sirloin of beef, flanked on either side by a leg of pork and loin of mutton, seemed placed as a bastion to defend innumerable bowls of gravy and plates of vegetables disposed in that quarter. A goose and pair of ducklings occupied side stations on the table; the middle being graced, as it always is on such occasions, by that rich burgomaster of the provisions, called a chicken pie. This pie, which is wholly formed of the choicest parts of fowls, enriched and seasoned with a profusion of butter and pepper, and covered with an excellent puff paste, is, like the celebrated pumpkin pie, an indispensable part of a good and true Yankee Thanksgiving; the size of the pie usually denoting the gratitude of the party who prepares the feast.
Plates of pickles, preserves and butter, and all the necessaries for increasing the seasoning of the viands to the demand of each palate, filled the interstices on the table, leaving hardly sufficient room for the plates of the company, a wine glass and two tumblers for each, with a slice of wheat bread lying on one of the inverted tumblers.
There was a huge plum pudding, custards and pies of every name and description ever known in Yankee land; yet the pumpkin pie occupied the most distinguished niche. There were also several kinds of rich cake, and a variety of sweetmeats and fruits.
On Wednesday, read about how American Presidents from Lincoln to Obama have proclaimed Thanksgiving.
* * *
Technical and creative writer, Carla G. Harper follows current events with one eye on history and one eye on the future. Her goal is to encourage people to think critically about what's going on around them and what they are doing with their lives. Follow Carla at Twitter: CarlaGHarper
---
This article is the copyrighted property of the writer and Communities @ WashingtonTimes.com. Written permission must be obtained before reprint in online or print media. REPRINTING TWTC CONTENT WITHOUT PERMISSION AND/OR PAYMENT IS THEFT AND PUNISHABLE BY LAW.