The Tea Party Report's William J. Kelly has a few questions for the Republican establishment. Here is what he has to say about last night's upset victories for the tea party movement with just 48 days before the Nov. 2 midterm elections.
What does the Republican party have against charismatic young conservative "real women" running for office? Former Alaska Gov. Sarah Palin might know the answer.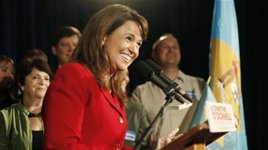 With tea party darling Christine O'Donnell's upset victory over Mike Castle in Delaware's crucial U.S. Senate primary, the Republican establishment seems to having a temper tantrum. Instead of celebrating, there is some sulking among party insiders – including President Bush's former deputy chief of taff, Karl "The Architect" Rove. Rove even shocked conservative pundit Sean Hannity with his venom for what he termed O'Donnell's "checkered background.'"
Quoth Rove:
"I've met her. I got to tell you, I wasn't frankly impressed as her abilities as a candidate," said Rove on "Hannity's America" last night on Fox News. "I'm for the Republican, but, I got to tell you, we were looking at eight to nine seats in the Senate. We are now looking at seven to eight, in my opinion. This is not a race we're going to be able to win."
Shades of Sarah Palin? This isn't the first time that insider Republicans have secretly – or not so secretly – torn down a female conservative candidate with a less-than-blue-blood pedigree. O'Donnell isn't rich. She doesn't have an Ivy League background. And she isn't perfect. The "real people" resentment of the mainstream media is something that the American electorate has come to expect. We saw it with Palin, and we will see it again. However, the power of the tea party movement should have taught even old GOP insiders a thing or two by now. Shouldn't it have?
The lesson: Americans are sick and tired of politicians who lie and bilk the system for their own gain. This November, they will take their chances on a "real person" candidate who might actually mean what they say. Candidates who believe in limited government. Candidates who believe that this trillion-dollar-deficit spending spree will destroy us; who believe that the government should not be running health care, controlling businesses or banks, or bribing special interest groups with tax dollars disguised as entitlements. That is the tea party movement.
The temper-tantrum theme continued last night when news outlets like Fox and the Wall Street Journal reported that the National Republican Senatorial Committee had no plans to spend money on O'Donnell's race.
This morning, however, the NRSC had quickly changed its tune. Sensing the brewings of a Republican civil war, NRSC chairman John Cornyn, R-Texas, had this to say, "Let there be no mistake: The National Republican Senatorial Committee — and I personally as the committee's chairman — strongly stand by all of our Republican nominees, including Christine O'Donnell in Delaware." That support includes a check for $42,000 — the maximum amount allowed by law.
Good decision, John.
Phil Kerpen, director of public policy for Americans for Prosperity, said on Sunday on "Bill Kelly's Truth Squad" on WIND-AM (560) that the U.S. Senate races in Delaware, Illinois and West Virginia are especially important now. Why? Kerpen says that those races have a special national signficance, because they will fill President Barack Obama and Vice President Joe Biden's open U.S. Senate seats. However, those races are also important because "the winner can be seated as soon as they're certified," explained Kerpen. (See video).
Could GOP victories in Delaware, Illinois and West Virginia stave off a fit of Democrat legislative sour grapes come November? In August, House lawmakers defeated Republican attempts to prevent Democrats from pushing through unpopular legislation during a lame-duck session after the November elections. In a 236-163 vote, the House rejected a resolution by Rep. Tom Price, R-Ga., pledging that Congress would not convene, except in the event of an emergency, between Nov. 2, 2010, through Jan. 3, 2011. Democrats considered the effort "hysterical."
However, given the Democrats' track record — ie. steamrolling through "Obamacare" health-care reform using procedural "sleight-of-hand," late-night weekend voting sessions on unpopular measures — anything is possible.
Given this, how can any potential Republican Senate victory be taken for granted by insider Republicans, establishment Republicans, tea party activists and the voting electorate in general?
The one thing that can ruin some of the GOP's steamroll effect this November is Republican disunity. O'Donnell won the Delaware Senate primary last night and is entitled to her shot. She had the majority support of the people and deserves the opportunity to see if the rest of the Delaware electorate is as sick of insider politicians and failed attempts at socialism as she is. The establishment grumblers need to get with the program and embrace last night's victorious tea party nominees. To the Republican Party insiders, I have only this to say: The American people have spoken, and now you should listen.
Tea Party Reports writer Kelly also pens Bill Kelly's Truth Squad for the Washington Times Communities and at Chicago Now. You can also follow him on Facebook and Twitter! E-mail questions and submissions you would like considered for the Tea Party Report to teapartyreport@gmail.com.
---
This article is the copyrighted property of the writer and Communities @ WashingtonTimes.com. Written permission must be obtained before reprint in online or print media. REPRINTING TWTC CONTENT WITHOUT PERMISSION AND/OR PAYMENT IS THEFT AND PUNISHABLE BY LAW.