The Red Sox have "Sweet Caroline." The Chicago Cubs have "Take Me Out to the Ball Game" (Harry Carey version of course). The hippies had Dylan's "The Times They Are A-Changin.'" But what about the tea party movement? Doesn't the tea party movement deserve an anthem too? When a small gathering of people become a large gathering of people - and then a movement that changes elections, opinions, behavior - the course of history - it is time that a song recognizes the power and the passion of those involved. Well now, the tea party movement might just have gotten itself an anthem with the new hit single, "I Am America" by former American Idol Season 7 star, singer Krista Branch. I guess you could say that the times they are a-changin' back.
Krista Branch talks about the song's inspiration and why she feels so strongly about the Tea Party Movement in this new interview with the Tea Party Report's William J. Kelly. Includes her music video, "I Am America."
ABOUT KRISTA BRANCH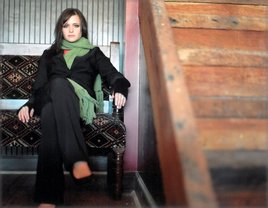 Krista Branch developed a love for music at a very young age. Her singing career started in a small Church in east Texas. Krista's family encouraged her to pursue her passion for singing and that's exactly what she did. She has traveled and used her gifts all over the United States as well as Guatemala and Slovakia where she performed for 20,000 teens in concerts, rallies, and school assemblies. Krista was married in 2000 and began her solo career. She is a devoted wife, mother, patriot and a woman of deep faith. She currently leads praise and worship at her church as well as youth and kids camps. She is working with internationally known Sax musician Grady Nichols singing lead vocals. Her career has recently been boosted by the release of her new single, "I Am America." The music video has become a youtube sensation and has sparked interest in booking Krista for rallies and concerts around the nation. Krista Branch will be releasing her debut album early 2013. Stay tuned. Krista could soon be performing at a venue near you.
Tea Party Reports writer William J. Kelly also pens Bill Kelly's Truth Squad for the Washington Times and at Chicago Now. You can also follow him on Facebook and Twitter! Email questions and submissions you would like considered for the Tea Party Report to teapartyreport@gmail.com.
---
This article is the copyrighted property of the writer and Communities @ WashingtonTimes.com. Written permission must be obtained before reprint in online or print media. REPRINTING TWTC CONTENT WITHOUT PERMISSION AND/OR PAYMENT IS THEFT AND PUNISHABLE BY LAW.