DISCLAIMER: The Tea Party Reports is edited by Bill Kelly and Laura Grochocki and features numerous independent voices in today's Tea Party movement. Tea Party guest submitters are in no way affiliated with The Washington Times and do not necessarily reflect the views of any other person other than the contributor.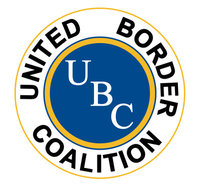 On United We Stand For Americans and the The Patriot Caucus, will be hosting the first Arizona Border Tea Party Rally known as the "United Border Coalition". The rally's purpose is to show support for Arizona and its rights to enforce the 'Immigration Laws' that the Federal Government won't. SB1070 is a common sense law that enables Arizona to enforce federal law on illegal immigration.
The confirmed speakers to-date represent the Who's Who of the U.S. illegal immigration debate that has been stirring the establishment cultures of political correctness to the boiling point. Among those are Senator Russell Pearce, Jesse Hernandez, President of the Arizona Latino Republican Association; Nevada Senate candidate Sharron Angle, Pamela Gorman, AZ Rep. Carl E. Seel, Senate candidate JD Hayworth, Sheriff Joe Arpaio, Judson Phillips, and Sheriff Larry Dever to name a few. So threatened is the establishment culture on this issue that it has chosen to cast this debate as one of racism rather than one of sovereignty and national security. However, these leaders who be present at the United Border Coalition this weekend have stepped up courageously - in some instances risking life and limb - to defend the basic principle that America's survival, current and future, depends on its defined physical borders. The Founding Fathers themselves would have argued that sovereignty is fundamental to the notion of citizenship. For if there are no borders, as many on the Left have lobbied for, how can you be a citizen of something or anything at all? The Tea Party Report applauds the efforts of United We Stand for Americans and the Patriotic Caucus for their tireless commitment to American sovereignty. God speed.
WHY THE ARIZONA/ UNITED BORDER COALITION RALLY IS SO IMPORTANT
- A Perspective by Keith Sipmann and Pamela Gorman, a Co-Sponsor of SB1070
SB1070 had a great deal of public support from those that not only live in Arizona, but also from Americans in other states. The bill literally brought the immigration issue into the forefront of national politics. The fact that the federal government wants to fight the Arizona law shows that the federal government no longer has the will of the people in mind. This administration would rather play political games than deal with the immigration problem that we are facing.
The United Border Coalition Tea Party Rally's purpose is to show support for Arizona and its rights to enforce the 'Immigration Laws' that the Federal Government won't. SB1070 is a common sense law that enables Arizona to enforce the federal laws related to illegal immigration. With the Arizona primary elections coming up within days, the idea is to remind Arizona and voters in other states that this issue is not going to go away unless we the people do something about it. It's imperative that Arizonans support the candidates that will support the positions of legal citizens and not bow or cave to another state or foreign country that doesn't agree with our state laws.

For the first time in our nations history, we have a President that sides with a foreign government and drug cartels over the will of the people of the United States. This is unacceptable. To show our unwavering support for SB1070, America, Arizona and those that believe we should have tougher border protection and not allow amnesty; United We Stand For Americans and The Patriot Caucus have joined forces to host the first Arizona Border Tea Party Rally known as the "United Border Coalition". This will be a truly historic event.
I recently caught up with one of the events speakers, Congressional Candidate for District 3, Pamela Gorman, who had this to say about the event and the immigration movement: "For months I have reminded the Tea Party members that it is high time to store the homemade rally signs and get to work winning elections. So, some may wonder why I would be promoting a Tea Party rally only two weeks out from my own Congressional primary when there are calls to be made, doors to be knocked on, and hands to be shaken in my own district. The reason is one of recognized priorities. In essence, our national security is at risk with our open borders and the federal government's complete abdication of its duty to enforce the laws of this nation. This IS the problem for which we must demand a solution. And, until we get this right, everything else is at risk.

Some have asked what the border policy has to do with the fiscal issues on which the Tea Party movement was originated. But, there actually is a real nexus between the Tea Party movement and the Illegal Immigration problem in Arizona. That nexus is the enormous spending that this problem requires, straining our state resources and allowing jobs to be filled with "invisible" workers who do not pay income taxes into the commonwealth and who displace Arizona's own out-of-work citizens (sometimes even brazenly benefitting from welfare). When it comes to illegal immigration in this country, we ARE ground zero here. As such, the taxpayers in Arizona have bore the brunt of the costs of this problem for far too long.

This Border Coalition Tea Party Rally, taking place right at the Arizona border, is important because it finally brings these two seemingly disparate issues - immigration enforcement and government spending – together and highlights the real financial cost of the federal government's failure to properly address the problem here on the front lines, as well as the obvious and glaring security risk a constant stream of unknown persons presents. But, as the issues here are really a nationwide concern, we expect to see support for this rally from all over on August 15, when we meet at the ranch on the border. We are a nation at risk and we are silent no more."
The United Border Coalition Rally takes place on August 15, 2010 at 1720 S Border Monument Road in Hereford, Arizona. From 9AM to 3:30 p.m. Visit United Border Coalition's website at http://unitedwestandforamericans.org.
ABOUT PAMELA GORMAN
Pamela Gorman is a Former State Senator for Arizona, and she has worked on the illegal immigration issue for years and she was a co-sponsor for SB1070. She will be speaking to the Border Coalition Tea Party on August 15.
ABOUT KEITH SIPMANN
Husband, father, veteran of the armed forces, and the founder of the 'American Political Analysis Media Group', theRightPress.com and is now a contributing writer for Sonoran Alliance. He was the co-organizer of the Phoenix Arizona Tea Party rally on April 15th 2009 and continues to be an active member within his community. Keith is a Maricopa County Republican Precinct Committeemen, Advisory Board Member for the American Liberty Alliance (Arizona), and is the State Chair for the Arizona Patriot Caucus. Keith studied Political Science at the New York Institute of Technology (NYIT) and in 2004; he became a Rio Salado Community College Certified Teacher and is a lifetime member of Rio Salado's Adjunct Faculty. Aside from politics, Keith has worked in the financial industry for a variety of leading companies within the financial counseling and consumer lending industry and has done so for over a decade.
Tea Party Reports writer William J. Kelly also pens Bill Kelly's Truth Squad for the Washington Times and at Chicago Now. You can also follow him on Facebook and Twitter! Email questions and submissions you would like considered for the Tea Party Report to teapartyreport@gmail.com.
---
This article is the copyrighted property of the writer and Communities @ WashingtonTimes.com. Written permission must be obtained before reprint in online or print media. REPRINTING TWTC CONTENT WITHOUT PERMISSION AND/OR PAYMENT IS THEFT AND PUNISHABLE BY LAW.