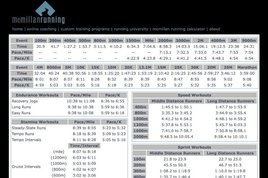 There is a plethora of information out there in cyberspace. So many websites, so little time. So here are my favorite online tools for mapping, calculating and generally obsessing over running.
Calculators
The best calculator out there has to be The McMillan Running Calculator. Want to know how fast you could run a half-marathon based on your latest 5K time? Or maybe you're wondering how fast you could race a mile based on your 4-mile pace? No problem.
But that's not all. McMillan will also tell you what paces to aim for in your training runs—with different paces for long runs, easy runs, tempo runs, speed workouts and on and on.
Amazingly, the calculator can be frighteningly accurate. At my second marathon, I finished 16 seconds faster than McMillan predicted based on my best 10k. That's 16 seconds over the course of 26.2 miles. That's downright psychic.
Fair warning: You might want to turn down the sound on your computer or else fall victim to the glaringly loud music emanating from the mid-page video.
Another fun one is the Age Equivalent Running Results Calculator on MarathonGuide.com. Want to compete with your father, mother, brother, sister, friend, boyfriend, girlfriend but don't know what a fair conversion is? Or maybe you want to compare your best marathon time now to your younger self? Presto! The calculator adjusts for age and gender so you can compare equivalent performances. So even if you're technically slower, you may actually be faster.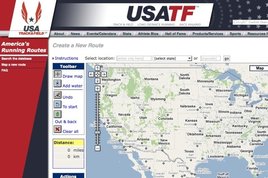 Maps
USA Track & Field has a beautiful and ad-free feature called "America's Running Routes." You can map and measure any run in the U.S. using Google Maps and then save it to a searchable database that includes 345,000 routes nationwide. I measure almost all my runs this way so that I have the most accurate picture of my pacing.
For runs outside the U.S., I use MapMyRun, the wildly popular site that boasts over 5 million runs in 150 countries. But I sometimes find the ads there a bit cumbersome, so I prefer the USATF site for regular use.
Pace Tags
OttowaRun.com has a really nice Pace Tag tool you can use to create a customized wristband for your next race. You choose the distance, your goal time, and favorite colors and the calculator will generate a band with all your target splits that you can print and wear. Planning on walk breaks? No problem. Just input the number, length and speed of your walk breaks and they'll be taken into account.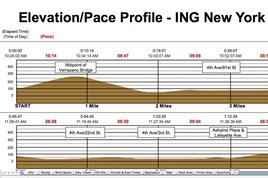 Spreadsheets
If you really want to geek out before your next marathon, check out Greg Maclin's Terrain-Adjusted Pacing Spreadsheets & Pace Bands on MyMarathonPace.com.
Maclin offers customizable spreadsheets for 15 marathons across the U.S., including popular races like New York, Boston and Marine Corps. The spreadsheets take into account delays crossing the start, each course's unique elevation, and other factors like whether you plan to run an even pace versus an even effort, and your start and finish strategies. So all you have to ask yourself is to fade or not to fade? Maclin's spreadsheet will do the rest, and give you a printable wristband to help keep you on pace.
I used the New York Marathon spreadsheet in 2008 and finished a mere 12 seconds slower than my goal time, thanks in part to my customized splits on my wrist band. Once again, I was astounded by how well math can work for runners.
There you have it. Those are my go-to, bookmarked websites I visit over and over again as I plot and scheme how to PR in my next race like the running nerd that I am.
Karla Bruning is an award-winning journalist and running nerd. She has completed three marathons, trains with the New York Harriers and is a member of New York Road Runners. Follow Karla's "Notes From a Running Nerd" at RunKarlaRun.com and Twitter@KBruning.
---
This article is the copyrighted property of the writer and Communities @ WashingtonTimes.com. Written permission must be obtained before reprint in online or print media. REPRINTING TWTC CONTENT WITHOUT PERMISSION AND/OR PAYMENT IS THEFT AND PUNISHABLE BY LAW.