VIENNA, Va. (06/09/10) – Tonight was a night four decades, if not more, in the making.
Returning to the beautiful Filene Center stage at Wolf Trap, Jethro Tull with 62 year old Ian Anderson appearing fleet of foot and flute, recreated many of their greatest songs, Anderson playing alongside his career long friend Martin Barre.
The evening was welcomely cool after last week's heat wave and Wolf Trap was not only lush and lovely, but the people as nice as one expects from this heritage DC Metro Area venue.
The evening begins with Gary Booker and Procol Harum (Geoff Whitehorn/lead guitar, Matt Pegg/bass guitar, Geoff Dunn/percussion and Josh Phillips/Hammond organ) in their first stop on a 2010 fifteen venue tour.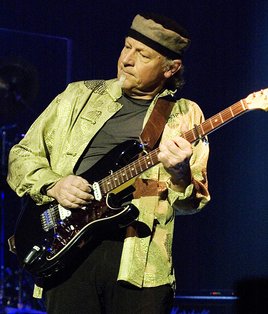 Silver haired Brooker sang á la Steve Winwood, with sheet music in place as the rest of the band provided a backbone that, with the overload of dueling keyboard and organ, might have been tough. I think it is safe to safe the guitarist Whitehorn was absolutely pleased to be on stage as he grimaced and grinned through his parts.
The group riffed through an approximate forty-five minute set that included "Once we had a Highway," "One eye to the future," "The Devil Came from Kansas," "Pandora's Box," "A Salty Dog," the audience favorite "Whiter Shade of Pale" and closing with the obscure "Kaleidoscope" from the band's first self-titled album (1967). That album also held Procol Harum's most significant commercial hits "Whiter Shade of Pale" and "Conquistador."
The band raised a bit of the late 60's era consciousness with a new song, "War is Not Healthy," a song that stands out not only for it being something entirely different but also as it is not instantly recognizable as Procol Harum.
The sentiments of this 2003-hard driving ballad would be as appropriate in 1969 as in 2010.
The predominantly older audience, with a few kids sprinkled in here and there, most of the young ones out with "dad" for the night, politely received Procol Harum, but they were obviously there for Jethro Tull.
In my earlier interview with front man Ian Anderson, the British rocker stated:
"It was ingrained in my way of thinking that music was something you did at your most influential level when you were in a possession of a senior citizen bus pass. As things turned out, I have reached some level of success in music and it still feels good to me."
For his fans that filled the concert hall and lawns of the Filene Center, it still felt good to them as well. Mr. Anderson bounded, danced, and pranced throughout the one hour twenty minute set. His energy was exuberant for a man decades younger than his years.
In trademark style, he was warm and jovial with the audience, peppering the performance with anecdotes and stories about the songs and the band.
Band mate for the last forty-plus year, Martin Barre easily commanded the stage and audience with chops that have not degraded with time. Breaking into Aqualung, striking each powerful chord with perfection brought the audience to their feet with grand appreciation for this master of the six-string.
Jethro Tull's music has long been an mélange of musical styles incorporating American blues, jazz, Celtic, and folk along with a bit of classical influence. Never knowing the direction any one song may take makes enjoying the body of work presented so much more fulfilling.
The set wound in and around their library including the powerfully bluesy New Day Yesterday, with Anderson on harmonica and his sardonic style playing to the songs sultry style. Barre was nothing less than masterful in his performance.
Very enjoyable was the band's nod to the British renaissance with their interpretation of King Henry the VIII 16th Century Madrigal - Pastime for Good Company. Offering a bit of popular folklore regarding the King's manner for disposing of his wives, Anderson's flute lilted through the ages old song that transcends so well to the rock stage.
Along with Martin Barre on lead guitar, Jethro Tull is comprised of Doane Perry/percussion, Davie Goodier/bass guitar and double bass and John O'Hara who is listed as orchestral conductor, piano, keyboards and accordion, and on the song "Hare in the Wine Cup," the Darbuka. .
"Budapest" brought Anderson back to the stage for the multi-layered lament to longing and hot nights from the 1987 Crest album, a release strong on emotion with songs like "Mountain Men" and "Farm on the Freeway" both of which speak of great loss.
Bourée saw Tull demonstrate some intricate interplay creating a beautiful blend of folk and the original JS Bach melody held together by the impressive rhythm section of bassist David Goodier and Perry on the kit.
Closing with the encore Locomotive Breath enhanced by two of those large 70's arena style balloons left the very polite group quickly leaving the center happy to have had the chance, once again to spend an evening with the lads.
Jacquie Kubin is a 15-year, award-winning veteran of travel and culinary writing. Today, Jacquie edits and directs a staff of writers for Donne Tempo Magazine, where you can read more of her entertainment, travel and culinary reviews. Jacquie is always looking for new talents who want to expand their horizons.
E-mail Jacquie with ideas, questions or to share your writing dreams. Follow Donne Tempo on Twitter and Facebook.
---
This article is the copyrighted property of the writer and Communities @ WashingtonTimes.com. Written permission must be obtained before reprint in online or print media. REPRINTING TWTC CONTENT WITHOUT PERMISSION AND/OR PAYMENT IS THEFT AND PUNISHABLE BY LAW.