Forysth, IL — Every adoptive family's story is unique, reflecting both the one-of-a-kind journey they take and the character of each family.
This week, I'd like to share the story of Red Thread reader Becky Allsup, an ER nurse, and her husband, an engineer, living in Forsyth, Illinois, who took a long and difficult route to find their daughter Gracie. The Allsups already had a son named Logan when they decided to expand their family.
This is Becky's story in her own words:
We are a family of four and coming to this number was very challenging, long and rewarding.
We have been married for 24 years and most couples with this many years of marriage are generally sending their children off to college. We, on the other hand, are proud parents of an 11-year old son and a three-year old daughter. Logan is our biological son and Gracie is our adopted daughter from Thai Nguyen, Vietnam.
The reason for our prolonged wait to have children was due to our infertility. We were able to have a biological child after several trips to the fertility specialist. We so loved having Logan and knew from both our experiences of having siblings that we wanted to try for another child so Logan could have a sibling he could love, share many memories and lean on when times got tough. The attempts at trying to conceive a second child were unsuccessful after five years.
Logan became aware that we wanted to have another child when we started the paper work. We educated him about how some parents choose to give their child to other mommies and daddies to love and have in their family.
We originally planned to adopt domestically. We were notified by our caseworker that a mother selected us for the parents for the baby she was going to deliver. We were elated with the news even though she was going to be a legal risk. The mother was doing six months in state prison for dealing/using crack cocaine. She had not been with her husband for over nine months, so she didn't know who the child's father was because she had been with many men and under the influence of drugs.
We arrived at the hospital the day after the baby was born and after a few short hours we were on our way home with a beautiful baby girl. It wasn't even 48 hours when our caseworker informed us the birth mother had decided not to sign over parental rights. We were asked if we would foster the child until the birth mother was released from prison.
The birth mother was released a couple of weeks from the day she gave birth. A few days after the mother was released from prison, we brought the baby to the adoption agency's office to give her to the birth mother and her husband. Before the exchange, the Department of Family Services (DCFS) personnel informed us there was an issue and asked if we would foster the child for a short time longer until the issue was cleared. We couldn't let this little girl down, so we agreed to foster her.
After several more weeks, our caseworker called to say we had to come to the office again for another exchange. This was tough because we knew we would lose her permanently this time.
It turns out the reason DCFS needed a couple of weeks to investigate this case was because the husband was a registered sex offender. It was determined that since the husband was the legal father there was nothing DCFS could do to keep this child from going back to the birth mother and her husband.
This experience left a huge hole in our hearts and crushed Logan.
We decided as a family that we would try another avenue to adopt. We researched, asked lots of questions and informed Logan that we would adopt internationally. He was very excited and did not seem to care how or where we were going to adopt, but only cared about when the new addition would arrive.
We chose Vietnam with the encouragement from a friend, who was in the process of adopting. We had our paperwork ready for an adoption in China, but as time went by the wait for a referral in China grew. The wait was up to two years. We learned that Vietnam had a shorter wait. We were not getting any younger and wanted to have a second child soon since Logan was already eight years old.
Lots of prayers were said and they were answered July 19, 2007 when Gracie Maureen Thi Allsup became the fourth member of our family. She was five months old and full of energy.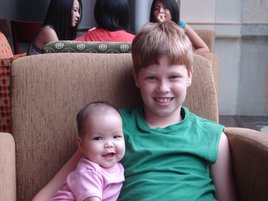 Logan was eight when we traveled to Vietnam to pick her up. He did extremely well and enjoyed the trip tremendously. It took a few days for him to adapt to the culture shock. After we arrived home he asked us when we were going to go back . We were so happy we chose to bring Logan because he developed such a special bond with Gracie.
Gracie has yet to ask us why she looks different from us. When the time comes for her to question the difference, she will be made aware of where she is from and what it took for us to become a family. We also plan to take a family trip to Vietnam when she gets older and teach her about her birth country.
---
This article is the copyrighted property of the writer and Communities @ WashingtonTimes.com. Written permission must be obtained before reprint in online or print media. REPRINTING TWTC CONTENT WITHOUT PERMISSION AND/OR PAYMENT IS THEFT AND PUNISHABLE BY LAW.