Got milk? Got allergies, stomach problems, skin issues or asthma? Your body might be telling you that pasteurized milk is not a food it can handle.
A few days ago, Dr. Joseph Mercola posted an article on his Mercola.com website: "Choosing Between Raw Milk and a Dead, White Liquid." The piece references journalist David E. Gumpert's book, Raw Milk Revolution: Behind America's Emerging Battle Over Food Rights.

As I mentioned in my earlier piece on Fresh, the movie, if we were feeding cows grass and practicing sustainable farming methods, we wouldn't need to super-heat milk. Milk itself is not unclean; the problem is the environment it's in, usually as part of an industrial farming complex where way too many animals are kept in way too close quarters. Until we address that paradigm, it's likely that raw milk will remain illegal in a lot of places. (See RealMilk.com and the Farm-to-Consumer Defense Fund for more information on local laws.)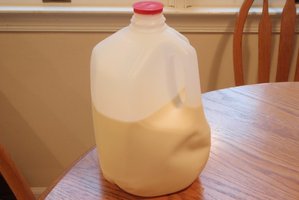 Mercola's article does a great job of quickly running down the benefits of raw milk, and I'm sure that Gumpert's book makes a convincing argument that I hope will hit the mainstream. A lot of people seem to think the "ultra-heat-pasteurized" label means the milk is going to keep their family healthy. It's not. Just like taking too many antibiotics can disrupt a healthy balance of bacteria in our bodies, killing the enzymes in milk and then drinking and eating a lot of a dead product is bad news. People who think they have "lactose intolerance" might just be more sensitive to something that is no better than any other processed food. Yes, even if it's organic.

In my immediate circle, people stay well away from pasteurized milk. Those of us who make whole foods nutrition a high priority – from exclusive and then extended breastfeeding (when possible) to farm shares and homemade broths – understand that pasteurized milk has killed all the milk's natural enzymes. This makes the product hard (impossible?) to digest and strips the milk of its natural nutrition.

This weekend is the "Honoring the Sacred Foods" conference of the Weston A. Price Foundation (WAPF), a group that advocates "traditional" diets, including raw dairy. I learned about WAPF when I was first facing infertility, acne, depression and a thyroid disorder. My nutritionist got me off of soy and back to eating some animal protein, which helped a lot. I continue to follow as many of the practices WAPF founder Sally Fallon writes about in Nourishing Traditions as I can fit into my schedule and budget.

But the nutritionist who started me on this path also later had me do a test that confirmed I was reacting negatively to casein, the protein in cow's milk (and to gluten). Some of us simply can't tolerate any dairy, and I wouldn't push anyone who suspects a dairy sensitivity to embrace raw dairy without gentle trial and error.

There are also those who argue humans shouldn't drink the milk of another animal. See NotMilk.com and MilkSucks.com and this article at GreenOurKids.com. Hey, even cows don't drink cow's milk after they're weaned! And look at the strength of their bones!

But if you're going to drink milk, it ought to be either cultured or in its natural state: raw. That is, if you can find it and don't get in trouble with the law for obtaining it!
Jessica Claire Haney is a freelance writer, editor and tutor. Her writing has appeared in parenting publications and poetry journals. A former high school English teacher, Jessica is mother to one son and is passionate about holistic health. Read more at Crunchy-Chewy Mama and on DC Metro Moms Blog.
---
This article is the copyrighted property of the writer and Communities @ WashingtonTimes.com. Written permission must be obtained before reprint in online or print media. REPRINTING TWTC CONTENT WITHOUT PERMISSION AND/OR PAYMENT IS THEFT AND PUNISHABLE BY LAW.