WASHINGTON, May 17, 2012 – If I've heard this question once, I've heard it at least a hundred times: "Hey, Terr, can you help me get in on this Facebook IPO?" The simplest answer to this question is: "No."
There are two main reasons for this:
I don't work for anyone involved in the underwriting syndicate for this or any other IPO; and
If you're not already part of the 1%, you have an iceberg's chance in Hades of getting any Facebook shares on the IPO anyway.
A primer on IPOs
We've explained how IPOs work before, but let's trot those whys and wherefores out again. We're going to oversimplify a little bit here, but if we don't, we'll have to issue a document about the size of Dodd-Frank to explain all the nuances.
First of all, for the uninitiated, IPO stands for "Initial Public Offering." An IPO occurs when a stock that has never traded publicly before becomes available to the public in the public marketplace, i.e., the U.S. stock exchanges.
The way this usually happens is as follows:
1. The company that wants to go public negotiates a deal with one or more investment banking firms (like Goldman Sachs) to help bring that company's stock to the public markets. The head investment banking negotiator—usually the one putting up the most funds—is called the "lead underwriter." Sometimes, there's a co-lead. The rest of the firms lined up to do the deal, plus the lead(s) are collectively known as the "underwriting syndicate." Sounds a little like Goodfellas here, and in some ways it is, but we'll let that pass for now.
2. Next, the syndicate and the company work together to fill out reams of paperwork to keep the Feds happy. In addition, they put out a "prospectus" on the offering that must be made available to every prospective investor. Today this is often done via email and PDF. Back in my day, we had to mail hardcopies of these puppies out to every prospective investor.
As I used to tell my investment classes, the prospectus is basically a document written by, of, and for the lawyers. Among other things, it must disclose critical information on the prospective share offering including who's selling the shares, what the proceeds will be used for, etc.
More importantly, most prospectuses are genuinely scary if you start reading them. They have to lay out in chapter and verse every possible disaster scenario; that is, every possible way, no matter how remote, that the company, its owners, and you, its prospective stockholders could get completely screwed.
Most people never read this stuff, of course. But it's in there later to protect everyone (except you) if they screw up and you sue.
3. In addition to providing prospectuses (prospecti?) to potential investors, the underwriter(s) and corporate execs usually go on a one- or two-week traveling sales pitch to various companies, hedge funds, and retail brokerages. That's known, unsurprisingly, as the "road show."
4. Not long after the road show, the IPO is priced, usually after the market close on one day. It then opens for trading as soon as the syndicate can get a balance of buys and sells together the following morning, which usually happens one or two hours after the markets open at 9:30 a.m. Eastern Time.
5. Functionally, what's really happening here is that the syndicate pools its own cash stash together and actually buys all the shares of the IPO itself. It then rolls these shares out onto the market and when trading in the issue opens, the fun begins as these shares—pre-sold, remember, to customers who've put in for the IPO—get to trade in the open market.
6. Once that's happened, the syndicate is actually allowed to intervene in the trading for up to 30 days after the offer to "stabilize" the price. I.e., they buy and sell for their own accounts in a best-effort to keep the stock price from going much below its IPO price.
What usually occurs when the IPO is "hot"?
In a "hot issue," like Facebook is pretty much bound to be, the syndicate doesn't have to take much of a risk here. They've carefully calibrated the deal to get the maximum offer price for the company. What this means is that they usually underprice the issue slightly to create the perception of a "deal." If this works, the stock "pops" at the open, sometimes quite substantially, after which the initial investors often flip right out of the stock, pocketing a sweet profit.
And the profit in this case is even sweeter, as IPOs are traditionally issued without charging buyers any commission whatsoever for the initial trade. (They do have to pay a commish when they exit.)
In the brokerage biz, like any other biz, the really good deals are hard to come by in IPO land, while average to mediocre deals are available by the bucketload.
We won't get into the ABCs of pricing, trading, etc. here although that's a topic in and of itself. Our main reason for this primer here is so that you can understand what we're about to say about that Facebook IPO which will be priced sometime tonight after the market closes.
So, are you going to get any of Facebook's IPO shares?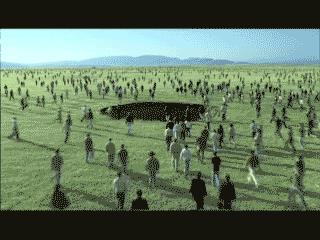 Let's state at the outset that from what we can see, anybody with a few coins jangling in his or her pocket or purse wants in on tomorrow's Facebook IPO. (Note the human lemmings above.) Visions of disgusting riches seem to be displacing sugarplums as they dance inside everyone's heads. Everyone in your own social network seems to be dreaming of enjoying a massive tradable pop at Friday's opening, enabling hundreds if not thousands of happy investors to retire immediately to new mansions they'll be building for themselves in the Bahamas.
We'll, it's not gonna happen, save maybe for those individuals who already have at least one mansion in the Bahamas. Here's why.
When you spot a hot issue like Facebook, as an average investor, you simply must realize that you simply aren't going to get any. Not fair? Too bad.
The way a hot IPO works is this: it usually serves as the perfect vehicle for investment bankers to reward their "whales" or big clients—typically card carrying members of the 1%: fat cats, hedge funds, corporations, trust-fund babies, politicians, you name it. Brokerage houses want to make sure they retain these large, important clients. And what better way than to offer their own version of "reward points"? In this case, first-dibs on something that's 99% likely to give you a monstrous profit within less than a day.
Fat cats love this stuff, and they get most of it for a variety of reasons, some good, most, in our opinion, not so good. To us, it's just the wealthy getting wealthier. We are capitalists here, but this kind of thing, while traditional, doesn't pass the smell test these days.
What's left of a hot stock after the fat cats have gorged themselves on shares, is selectively made available on the retail level, i.e., you and me. The small amount of shares that remain of the Facebook IPO go through an allocation process at each branch office that mirrors, in miniature, what goes on in the corporate brokerage offices. To wit, each branch manager allots the bulk of whatever he gets to the biggest trader in the office in order to reward that office's fattest cat clients.
What's left after this, a smaller number still, is allocated to the other brokers, and it's usually not much. In any event, these brokers then allocate those remaining shares to their own best clients, leaving others in the lurch when they run out. When it gets down to you and me…well, we're lucky to get 10, 20, 30 shares at most, and only if we've been regular clients the broker wants to make happy.
In short, unless you have a pretty large account and trade pretty regularly with your broker, you're just not going to get any Facebook IPO shares. Ditto if you use that old trick of opening, say, five different new accounts with five different brokers, hoping to play roulette and grab a few shares from at least one of them. This won't work, generally, because the brokers are wise to you and won't even try to get you any shares, knowing you'll never trade with them again anyway.
So what's a disgruntled small investor to do?
Since you're probably not going to get any Facebook IPO shares tomorrow morning, should you go into the market and buy shares first thing when the market opens for trading in the shares?
Answer: H___ no!
Facebook's IPO stock will allegedly be priced, if we are correctly informed, somewhere between $35 and $45 max. (Let's please not discuss the technicalities here.) If this is the case, we're getting estimates that predict an initial pop to $60, and possibly a lot higher. Nobody really knows.
If you try to jump in on this initial action, you will likely get clobbered in fairly short order, paying top price for the stock, which then is likely to sink back a fair amount over the next few days as things settle down. A particularly idiotic tactic some investors employ is to blindly shoot in a "market order" because it's too difficult to pin down a limit price that will actually execute. A market order guarantees that, in most instances, you'll get the stock. What it doesn't guarantee is how much you'll pay.
In point of fact, putting a market order in for this kind of offering makes you a sitting duck. Your order, in fact, will be picked off and filled at the worst possible price of the moment because, on Wall Street, they never give a sucker an even break.
Two caveats about chasing Facebook after tomorrow's market opening trade. First of all, chasing a stock like this most often results in getting the worst price and ultimately incurring a loss when the stock settles down and you can't stand the red ink anymore. There are always exceptions to this, of course. But trading stocks keeping a worst-case scenario in mind will keep you from making most of the errors amateurs make. And this is one of them.
Second, there's something truly disconcerting going on behind the scenes. Over the past few days, the size of the Facebook offer has steadily increased, as insiders—company execs, hedge funds, and vulture capitalists who've already owned non-publicly traded Facebook stock—dump their shares into the IPO, allowing them to exit at the agreed-upon offering price and locking in an enormous profit for them.
These investors will be selling the shares to you, directly if get any on the IPO; or, indirectly, should you decide to disregard our advice and go chasing after shares you couldn't get otherwise. The insiders will make big money. You might not make any at all. But it's legal. And these exiting investors don't care about you, so remember that before you leap.
Bottom line:
Statistically speaking, you're not going to get any shares of the Facebook IPO tomorrow. Or, on a best case basis, you may get a little bit but not enough to get you to that new Bahamas estate by the weekend.
If you chase the stock after it opens, you have a high likelihood of ending up holding the bag, so please beware.
If the stock is so hot, why are all the insiders dumping theirs tomorrow morning?
CNBC is running nonstop hype on this IPO today, doing, we think, a disservice to that network's listeners and viewers. The Facebook IPO chase will be exciting if you get any of these shares in the offer and it will be depressing if you don't. But in any case, if you're the average retail investor, Facebook shares are unlikely to make any difference whatsoever in your life. This is not March Madness. The winners of this IPO have already been determined, by and large.
If you happen to actually get any shares on the offer, dump them right into tomorrow's initial run-up. You have no idea where the stock is going after that original pop. In this market, any profit is better than a loss, so don't look back once you leave.
(Note: if you're with Schwab or E*Trade, you may need to hold the shares for longer than an hour or incur a penalty on your ability to get future IPOs. So think twice if the syndicate decides to give these discount houses any shares at all.)
And also keep in mind: Greece, and perhaps the Eurozone, are very, very close to an existential collapse that could look as bad or worse than what happened to us here in 2008. The fear of worldwide contagion is palpable and it's already been causing investors large and small to head for the exits, fast. If this gets worse and gathers steam, Facebook's new shares will take a swan dive along with everything else.
Over time, Facebook may or may not be a valuable investment. But right now, with no reportable earnings to justify its IPO pricing (at least in our opinion);with no clear path to advertising profitability on the platform; and with the market at the edge of a waterfall thanks to the European banking crisis; we'd avoid this offer like the plague unless we could get a few hundred shares of the IPO at the IPO price and flip them.
But we can't, and likely, neither can you.
So let's all agree to watch, wait, and not be idiots. If you were in the market roughly 12-15 years ago, all you need to do is remember the dot.bomb crisis, circa 1999-2001. Hundreds of new Internet companies traded breathlessly and stratospherically based on precisely no earnings at all. Before everyone noticed that there was no man behind the curtain. And no chance at profitability.
Today, you can count the number of these new Y2K Internet companies that are left on one hand. Don't think it can't happen again in the hot new world of social networking companies. It can, and it will.
UPDATE: Facebook reportedly has been priced at $38 per share according to multiple sources, at the high end of its official range but not above. Market conditions today apparently ruled against going for a higher price, which had been technically possible.
UPDATE 2: NASDAQ has confirmed that they intend to open Facebook for trading tomorrow morning at 11:00 a.m. In our opinion, mileage may vary, but 11 is a pretty good estimate.
(Usual caveats apply to this article, which should not be construed as a recommendation to buy or sell anything. Travel at your own risk, keeping in mind that the current market environment is very, very risky. There are dragons out there, so watch out. We're actually on your side. Not too many people can say that with a straight face these days.)
Read more of Terry's news and reviews at Curtain Up! in the Entertain Us neighborhood of the Washington Times Communities. For Terry's investing and political insights, visit his Communities columns, The Prudent Man and Morning Market Maven, in Business.
Follow Terry on Twitter @terryp17
---
This article is the copyrighted property of the writer and Communities @ WashingtonTimes.com. Written permission must be obtained before reprint in online or print media. REPRINTING TWTC CONTENT WITHOUT PERMISSION AND/OR PAYMENT IS THEFT AND PUNISHABLE BY LAW.