WASHINGTON, DC, August 10, 2012 – Leon Manzano held both the Mexican and the American flags when he won his gold medal in the 1500 meter race in London on Tuesday.
Manzano is one of over 40 foreign-born athletes representing the United States in these London Olympic games. All are American citizens. But some of these athletes find themselves being called "sell outs" by members of their native land when they choose to represent the US.
That was the case for US 200 meter Gold medalist Sanya Richards-Ross. Her parents relocated from their native Jamaica when Richards-Ross was just 12 years old because they realized she had a promising running career. They were right. The Kingston-born immigrant graduated from a Fort Lauderdale high school with a 4.0 average and was accepted into the National Honor Society before representing US in the Athens Olympics in 2004, and breaking records and winning top spots in various world track competitions.
Still, on social media platforms like YouTube and bulletin board communities, some Jamaicans, Jamaican Americans and Jamaicans living abroad have called her a sell-out for not running for Jamaica.
One commenter said Richards-Ross was a traitor for "representing a predominantly white country with more than 10 times the size of the Jamaican population," and pointed out that this year's Olympic 200 meter Gold medalist, "Kirani James lives and goes to school in the States, yet he ran for his country Grenada, and mouthed the words of his national anthem in front of the entire world. What does Sanya sing when she is on the podium accepting her gold medal? Certainly not the Jamaican national anthem. How can you call her a Jamaican?"
On one hand, it would make sense for an athlete who grew up for her most formidable years in the United States, has developed an "American" accent, and identifies foremost with America to give back to the nation that gave her opportunity and sponsored her.
For Richards-Ross, given the amazing talent among track athletes in Jamaica, she may even have had a better chance at making the US Olympic team than the Jamaican team anyway.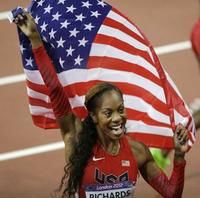 Athletes that live in, attend college and work in the United State as permanent residents or dual citizens like Kirani do make the opposite case. Certainly, their winning can be a source of pride for their native land which, compared to the US, may have had limited opportunities on the world stage to have pride in a native son.
There are plenty like Kirani who run for Jamaica; For example, University of Arkansas alum Veronica Campbell-Brown runs for Jamaica, earning a bronze medal in the 100 meter race Wednesday.
Other nations have American residents coming back home to represent them as well. West Palm Beach resident and dual citizen, Melissa Ortiz represented Colombia. South Floridian swimmers Esau Simpson swam the 100 meter freestyle for his native Grenada and Branden Whitehurst swam the 100-meter freestyle for the Virgin Islands.
Arizona University students Regina George ran the 400 meter for her native Nigeria. Ivanique Kemp ran the 100 meter hurdles for Bahamas, Alistair Cragg represented Ireland in the 5,000 meters and Tina Sutej represented Slovania in the Pole Vault competition.
Several Louisiana State University and Louisiana students represented other nations as well including David Andersen for Australia, Pops Mensah-Bonsu for Great Britain, Al-Farouq Aminu for Nigeria, and Alex Garcia for Brazil.
Then there are the American-born athletes who are unable to get on the US Olympic team and use their lineage to nab a spot on other nations' teams. US-born and raised Recella Hammon represented Russia in basketball as did Michigan bred American Chris Kaman who used his great-grandparents German citizenship to nab a spot on the German team.
But is it all fair?
Rule 41 of the Olympic Charter requires all athletes to hold citizenship in the country for which they compete. However, many athletes play for countries to which they have little or no emotional attachment, "sometimes for countries they have never even visited," law professor Peter Spiro wrote in a recent New York Times op-ed suggesting that the Olympic nationality requirements be banished altogether.
And what about those larger "First World" nations that recruit from smaller "Third World" countries to increase their chances for a medal? After playing pro-basketball in Spain, Congo-born Serge Ibaka earned Spanish citizenship and landed on the Spanish Olympic basketball team.
"The Gulf states have acquired African distance runners with promises of stipends for life," Spiro said. "In preparation for the 2000 games, Qatar pretty much bought the entire Bulgarian weightlifting team."
Overall, the rules are made to be overcome and can be for the convenience and competitiveness of the athlete and the country sponsoring of an "athlete."
---
This article is the copyrighted property of the writer and Communities @ WashingtonTimes.com. Written permission must be obtained before reprint in online or print media. REPRINTING TWTC CONTENT WITHOUT PERMISSION AND/OR PAYMENT IS THEFT AND PUNISHABLE BY LAW.