After my last trip to the dramatic redwood forests and rugged coastline of Carmel, I felt compelled to explore more of California's beautiful country, this time heading just one hundred fifty miles east of Los Angeles to the stunning Joshua Tree National Park.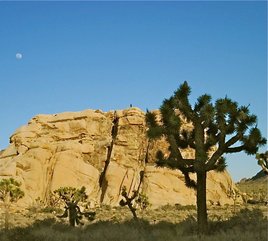 Joshua Tree is a desert park that expands over 800,000 acres and houses an array of diverse hiking trails lined with unique plant life, monolithic rock formations great for climbing and boulder-hoping and wildlife viewing unlike anywhere else in the world.
While there are motels in the town of Joshua Tree, to see the park at it's best, one must camp. The park has eight campsites in a variety of different settings. Most sights are within 15 miles of the front gate and are located near trailheads or popular climbing spots.
Campsites are crowded during the weekend and reservations must be made well in advance. Especially in the spring when the days are still cool, wildflowers bloom and beautiful birds migrate through the park.
Climbers flock to Hidden Valley Camp Grounds, set back between massive rock formations rigged for climbing. The more social campers pick their guitars, strum banjos and enjoy exploring boulders at Jumbo Rocks Campground. The park also offers space for large groups at Sheep's Pass. Braver souls can enjoy backcountry camping but must first purchase a permit. All campers need to come equipped for both hot and cold weather as the temperatures in the desert are subject to drastic change with little warning.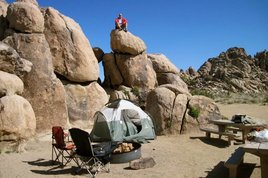 Camps are equipped with fire pits and restrooms. Everything else is the responsibility of the camper. Kangaroo Rats, mice that hope on two legs like a kangaroo, tamely monitor campgrounds for dropped chips and coyotes have been known to munch on food left out over night, so keep your food in your car.
Because of its distance from any city, Joshua Tree is a magnificent place to observe the night sky. Star clusters typically invisible because of city lights, give stargazers an opportunity to see the universe in a whole new way. Stars are so abundant that on the night of a new moon, familiar constellations become difficult to find. On cold nights when the moon is full, the red rocks of the park take on an other-worldly purple hue, it's hypnotic spell only accented by the gentle hoot of an owl or distant howling of a coyote.
As the night turns to dawn, the purples and blues turn to soft pinks and reds contrasted against a rich blue sky. The desert floor takes on a yellow and the green spiny leaves from the Doctor Suess-like Joshua Trees and the Yucca plants complete this arid color wheel.
Hikes vary in difficulty throughout the park. One can enjoy a long walk through the Joshua Trees and cacti towards the Wonderland of Rocks along the Boy Scout Trail. Keep an eye on the brush and you will see jack rabbits, roadrunners or foxes. If you seek more altitude and physical exertion, try Ryan Mountain, a three-mile loop with spectacular views of the whole park. Hydration is important and even though in the spring and fall, temperatures are in the mid sixties, it is still dry and hikers can easily find themselves suddenly very thirsty and a long way from water. A gallon of water per person, per day is recommended.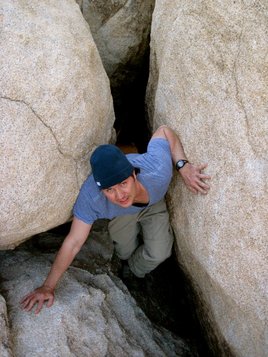 If rock climbing is your thing, Joshua Tree's rock structures are a perfect place to reach great heights, as long as you register with the park first. If you like rocks, but don't want to mess with the gear or have the guts to climb some of the sheer and ominous rocks, one can spend an entire day jumping from boulder to boulder at the Hall of Horrors located just east of Ryan Mountain or other rock formations throughout the park.
One must be careful while boulder hoping, however as it is easy to get overzealous and get stranded on a rock where you will have to wait for the amicable and volunteer-based Search and Rescue team to get you down. That is of course if you have someone who can find their way to one of the few functioning emergency phones scattered throughout the park and call in the rescue team on your behalf. While cell phones work in some areas of the park, for the most part, when you are in Joshua Tree, you are on your own.
The sunrise is invigorating, but nothing is more peaceful than when the sun drops below the snowcapped mountain horizon miles beyond the park. From on top of a boulder, watch as Joshua Trees face the descending sun like soldiers saluting their leader as he goes off into the unknown, their shadows eerily elongating across the desert floor.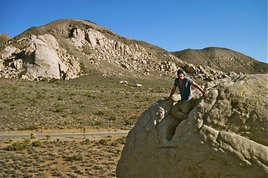 As campfires begin to burn and stories from the day circulate around them, dress warm because the desert can get cold and make sure to bring lots of firewood as scavenging for wood in the desert is a losing battle.
America is full of beautiful National Parks but none are as unique as Joshua Tree. An easy drive from Los Angeles, San Diego, or Palm Springs, Joshua Tree is a restorative and inspiring wilderness that can be experienced again and again.
---
This article is the copyrighted property of the writer and Communities @ WashingtonTimes.com. Written permission must be obtained before reprint in online or print media. REPRINTING TWTC CONTENT WITHOUT PERMISSION AND/OR PAYMENT IS THEFT AND PUNISHABLE BY LAW.