After several busy weekends, an enormous amount of travel in addition to an abrupt and unexpected career change, the opportunity to attend the 17th annual Revelations Conference, a spiritually revitalizing four day conference hosted by Michael Bernard Beckwith, founder and spiritual director of the Agape International Spiritual Center, author of award-winning book Spiritual Liberation, and featured teacher in The Secret was a welcome one.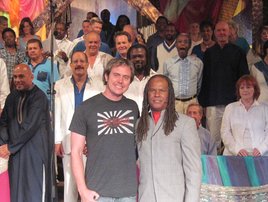 Relatively depleted, the thought of a weekend of inspirational talks and music seemed like the perfect way to charge the batteries before setting sail in a new direction. With powerful speakers including not only Dr. Beckwith but theologian Dr. Will Coleman, environmentalist Van Jones and bestselling author Niurka, in addition to music from the Agape International Choir led by Rickie Byars Beckwith along with an endless line-up of special musical guests from all corners of the world, the weekend would bring me some much needed inspiration.
Not only did the conference center on music and enlightening conversation, but it also offered a multitude of New Age healing modalities. Such modalities included Reiki, a Japanese stress relieving technique, Chakra clearings, and something called a Matrix Energetics Healing among many others.
Always open to try new things, I inquired.
"What would you like healed?" asked an unassuming volunteer.
I thought a minute. Besides the occasional strange twitch in my eyelid, all seemed well. "I think I'm good actually."
"Everyone needs healing," she said, chortling at my hubris.
"Right," I said, feeling boxed in, eyelid twitching as if on command. "I just don't really know what I need healed," I managed. "Maybe I'll think on it."
"Don't worry," she responded assuredly. "Whatever it is, it will find you."
"Sounds good," I said, never more sure of myself.
Moving through a colorful and torrent of hundreds of racially and ethnically diverse conference goers dressed in colorful and flowing clothing, I made my way past the many vendors selling mandalas, crystals, and buddhas among other spiritual items from faiths all around the world to the registration desk.
Above it a large banner proclaimed the theme of the conference: "When the river is rising, remember."
A young woman with dreads, wearing a vibrant dress with keen, soft eyes and a gentle cadence asked my last name.
"Payne," I said.
She looked over her list and as she did, her eyebrow furrowed.
"Ashleigh Payne?" she asked.
"No," I answered, shocked at my own abruptness. As I struggled to answer, my heart began to race, attempting in painful vein to violently escape from the confines of my contracting ribcage. I wasn't Ashleigh Payne, but I had known an Ashleigh Payne once. She had been my wife. As my heart raced back to some of the most joyous times in my life to what had ultimately been the saddest and most troubled, the river was most definitely rising.
As the massive conference hall filled with jubilant people, lost in conflicted reflection and sudden vulnerability, I made my way to the back of the auditorium and found my seat. The joy in the room was unrivaled. My mind reeling, I sat down, nervously flipping through my phone, scanning ancillary old emails, ruminating on the obnoxious case of mistaken identity.
Having attended Sunday service at Agape several times over the years and familiarizing myself with many of Dr. Beckwith's books and sermons as well as watching his powerful PBS special which had aired nationwide earlier in the year, I knew that upon hearing his voice that my nerves would quell. He had a way of personalizing his talks, no matter how large the audience I always felt I had participated in an intimate dialogue and I always left feeling better about life. Resting in the certainty of approaching wisdom to which I would be exposed in addition to the inspiring musical entertainment of the Agape Choir, I took a breath, settling into the evening, reverting back again to the "beginner's mind," as I had heard him speak of.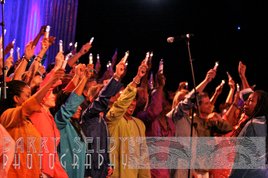 I closed my eyes, relaxing for only a beat when next to me sat a woman who had come into town from Ohio for the weekend. Vaguely smelling of sandalwood, brushing her stringy hair from her eyes and wearing her heart on her sleeve she worked to make eye contact with me, eager to make a friend.
"Is this your first revelations conference?" she asked.
"Yep." I said, emphasizing the letter "p" with the type of absolution that typically implies the conversation is over. A rule of language apparently they didn't know about in Ohio.
"This is my tenth one," she informed me as though congratulations were order.
Annoyed at her cheerfulness in contrast to my sinking spirit, a direct reflection of my own frustration, I wondered if she would be less chipper had at the reception desk, they have addressed her by the name of her ex-spouse, or given the number of beaded necklaces and the Hindu-inspired dot on her forehead marking her "Third Eye", more accurately her deceased cat.
"What are you planning on releasing this weekend?" she asked me as though it were a normal question, now driving me mad as the answer percolated just between the back of my throat and my heart, or as they would call it at the Revelations Conference, my forth and fifth charkas.
"Verbal assault," I thought as the lights dimmed granting me a reprieve.
"You'll remember," she said, indifferent to the onset of the evening and my complete refusal to engage in conversation with her. "It's the theme you know."
"I heard about that," I said.
A spotlight appeared on a man in a tank top on a platform in the middle of the stage. As he knelt, theatrically frozen, blue light highlighted the curvature of his muscular physique, a testament to his dedication to physical fitness. In a long meditative moment, I felt what was left of my own muscle mass fleeting, recalling instead a time when I actually made an effort to be fit. As the last of that narcissistic and insecure thought receded, the man, a former Broadway star named Charles Holt, with no musical accompaniment, from the depths of his soul began to sing.
The already quiet audience was enveloped in stillness as he sang his way through the first line of Sam Cook's "Change is Gonna Come." One note into the song, my already plummeting heart dropped deeper. As he began to sing the second line, my mind went back two years to the first time I had heard this song at a funeral with a friend who had tragically and abruptly lost her younger brother.
After the funeral, from a couch I vividly watched as his now fatherless four year-old daughter made mindless, emotionally vacant attempts at a puzzle. After a moment, she inexplicably crawled into my lap. Not used to children, I squirmed uneasily as her body began to radiate a strange heat, trembling subtly. Verbally cumbersome, I attempted to talk to the heartbroken toddler.
Not hearing my words, she curiously examined my eyes looking beyond me, perhaps seeing in me some semblance of the father that she had just lost, and she began to she sob, her eyes never leaving mine. Trying to remain unaffected, I mentally hummed the melody of the song that had played at her father's funeral a few hours before, searing it into my mind. With her longing, gentle blue and tearful eyes she stared into my soul and in that strange moment, I realized for the first time that I had one.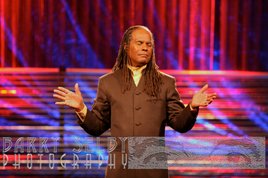 Fifteen minutes into a four-day conference, I had faced my unsuccessful attempt and shortcomings in marriage, the insecurity and uncertainty of a new job, the fragility of human life, and the sorrow of untimely loss, not to mention the fact that over the last several weeks, thanks to the man on the platform, I had fallen incredibly out of shape.
As memories flooded me from every direction, I squirmed in my chair. Frustrated at my inability to get comfortable not only in my seat but suddenly and unexpectedly in my own life, I bit my lip, fighting back the vulnerability of the moment. "I did not need to be healed," I thought, but resist as I may, but like the song said, "a change was gonna come." I closed my eyes as a wave of rising grief washed over me, flowing through me, exiting in an awkward sob my ego masked as cough, remembering that Michael had once said "a bad day for the ego is a good day for the soul."
Sensing my unease and emotional alienation I felt, the cat lady from Ohio whose enthusiasm for healing I had been so quick to condemn grabbed my hand and gave it a squeeze. Grateful, I squeezed back and as Dr. Beckwith took the stage, the powerful conference continued, and as it did I remembered…
To learn more about Michael and Agape, please visit: www.Agapelive.com
Photos courtesy of Barry Selby and Barry Selby Photography.
---
This article is the copyrighted property of the writer and Communities @ WashingtonTimes.com. Written permission must be obtained before reprint in online or print media. REPRINTING TWTC CONTENT WITHOUT PERMISSION AND/OR PAYMENT IS THEFT AND PUNISHABLE BY LAW.