The USOC, or the United States Olympic Committee office, also housed in the Media Center even reflects this unification.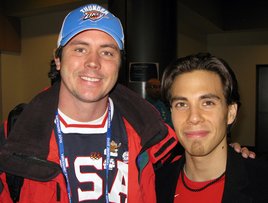 Vancouver, BC…While it is considered taboo for an accredited media representative for the Olympics to wear any type of fanfare nor is it deemed appropriate as a reporter to approach athletes in any way, that didn't stop me, a wandering pin-clad, jersey-wearing traveler, from talking my way into the front row of a press conference featuring Gold Medalists Lindsey Vonn and Apolo Ohno.
Of course, while I am a Community writer, I do not have those coveted press credentials dangling from my neck instead I have a "day pass" - so I guess I get a "bye."
The Olympic media center is as fascinating as any gravity defying feet performed by individuals on ski or skate.
This high security hub is located on the end of the pier and is home to countless offices for publications across the word.
Within the media center are several huge rooms used for press conferences, a massive space where televisions broadcast the day's events, and row upon row of tables where writers can connect to the internet and compose their stories.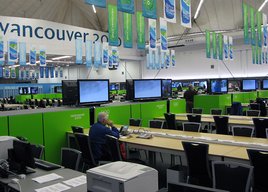 While one must have media credentials to gain access to this high security area, it is possible to get a "visitor's pass" and that is how I gained access to this Mecca of cool Olympians and those lucky enough to rub elbows with them.
The average reporter is dressed down and subtly walk around with acute purpose which is why when I entered this press conference, featuring the entire planning committee as well as four medalists, I felt a bit like a square peg.
That said, according to my pass, I had every right to be there and so there I was.
Outside of each media outlet, are posted all of the print stories that had been written on the games. Outside the Getty office were one after another mind-blowing photo, many of which may never be seen.
But I got a few minutes to stand in awe.
It was amazing that while all of these world- class athletes receive such high accolade, that these media superstars, many of which were within a stone's throw of where I was, receive acclaim amongst peers and a few readers.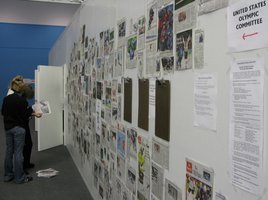 They are really the true voice of the games.
The conference itself was fascinating. Questions ranged in subject matter from personal opinions on victories to how Olympic Athletes receive grants to make financial ends meet when they are not competing.
While it is easy to pick up a magazine or newspaper targeting specific topics, to hear the wide range of questions and watch the athletes interact with one another while answering was powerful to witness.
I found myself constructing questions in my head but as reporters groaned when less than impressive questions were asked, I decided to keep my mouth shut.
When Bill Demong, gold medalist in the Nordic Combined, was asked about the feeling amongst athletes, specifically the Americans and the Canadians, his answer reflected much of what I have seen amongst the majority of fans.
It is more like the two countries make up a greater team of North America. Canadians root for the US and the US roots for Canada.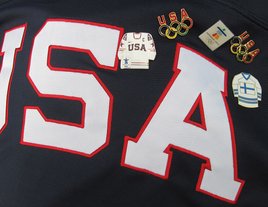 On one of the walls is a running tally of all of the American Gold Medalists and their events on one side and on the other are the Canadian athletes.
After the conference, the athletes stick around to answer one on one questions, and though I had many questions to ask, I didn't want to monopolize their time, instead offering a congratulations to Apollo One for his many medals tand aksing for a photo.
While I am not sure that wandering around the Media Center was something I was supposed to be doing, it was an incredible look into the complex and tremendously orchestrated machine that brings these games to the world.
And an experience to add to my box, which I am daily expanding!
Matt Payne, a graduate from the University of Oklahoma, is an award-winning screenwriter and has worked in Hollywood in both film and television for eight years.
Payne-Full Living will be taking Matt to places where he will walk into places he might not belong, find experiences he might otherwise miss, and expand the walls of the box in which he lives.
Some will be fun, some will be educational, some will cause thought and reflection. And others will just be painful. But they will all be fun to read about.

In addition to authoring multiple screenplays, Matt is also a musician and a devoted traveler. To read more of Matt's work please visit his blog or his work at Donne Tempo Magazine. You can also follow Matt on Facebook at Twitter.
---
This article is the copyrighted property of the writer and Communities @ WashingtonTimes.com. Written permission must be obtained before reprint in online or print media. REPRINTING TWTC CONTENT WITHOUT PERMISSION AND/OR PAYMENT IS THEFT AND PUNISHABLE BY LAW.