One of the most unique and highly visible traditions of the Olympics is the practice of collector's pin bartering. Gathered every ten feet or so all along the waterfront from the Cauldron to the media center and on down to Canada Palace, one can find groups of five to ten people huddled around individuals trading an assortment of colorful pins.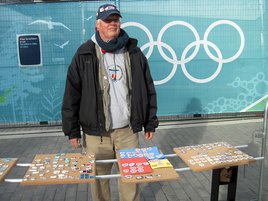 These pin enthusiasts can be easily spotted as they wear hats, lanyards, and sweatshirts adorned with this unique metal memorabilia. The pins themselves range from the Olympic rings to mascots over many years. Corporations put logos on pins that are handed out at various events and there isn't a one that is not to be treasured.
In the media center, in restaurants, at events and even in bathrooms people trade these pins. This practice isn't new to this Olympics either. Pins from Olympics dating back thirty years can be yours for the right trade.
One man told me that he has traveled to every Olympics since 1980 trading this pins and his collection was a reflection of that passion. Los Angeles, Seoul, Korea, Tarino, Calgary to name just a few. Another gentleman had a pin advertising the 1986 Winter Olympics and the soda "Tab."
People go to great lengths to acquire certain pins. In the lobby of my hotel, a woman who works the desk told me how a man saw a pin on her shirt as she entered the hotel. He then called a friend, alerted him that she possessed this pin and that man t made his way to the hotel to make a trade. Creepy? Kinda….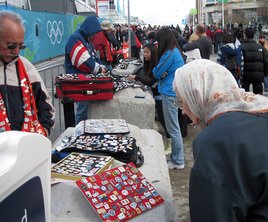 Eager to get a piece of the action, but without a pin of my own to trade, I approached one of the vendors and asked to buy one. He laughed and shooed me away. Apparently buying one from a trader is the glaring sign of a novice.
After visiting four or five more to the same end, I finally found a man kind enough to sell me five pins, one for ten dollars and four others for two a piece.
Shortly after my acquisition, I trade three pins for one of the Olympic Mascot, a furry beast named Quatchi. Once the trade was complete, an older man looked at me, disappointed. I had been taken advantage of. Such is life. I still had a few good ones and with a little more knowledge will be back to even soon. I can feel it.
Whether it's simply the rings or the mascot, one can't help but participating is this timeless Olympic event. I just hope someone will swap my Finland Jersey for something vintage and perhaps I can support my love for Coca Cola by swapping out one of three sets of Olympic Rings. Gotta hit the streets to find out.
Matt Payne, a graduate from the University of Oklahoma, is an award-winning screenwriter and has worked in Hollywood in both film and television for eight years.
Payne-Full Living will be taking Matt to places where he will walk into places he might not belong, find experiences he might otherwise miss, and expand the walls of the box in which he lives.
Some will be fun, some will be educational, some will cause thought and reflection. And others will just be painful. But they will all be fun to read about.

In addition to authoring multiple screenplays, Matt is also a musician and a devoted traveler. To read more of Matt's work please visit his blog or his work at Donne Tempo Magazine. You can also follow Matt onFacebook at Twitter.
---
This article is the copyrighted property of the writer and Communities @ WashingtonTimes.com. Written permission must be obtained before reprint in online or print media. REPRINTING TWTC CONTENT WITHOUT PERMISSION AND/OR PAYMENT IS THEFT AND PUNISHABLE BY LAW.