After a five-mile trek through the shivering Georgia woods into the heart of the Chattahoochee National Forest in the Blue Ridge Mountains, I arrived at the Len Foote Hike Inn.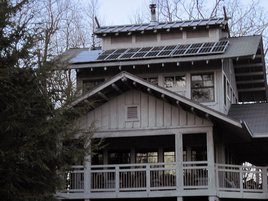 As I approached the grayish, angular edifice made up of four connected and descending buildings, I looked around at the endless naked oak and hickory trees, listening to the silence of the woods becoming completely aware that aside from the Inn itself, I was in the middle of the wilderness.
And feeling that I was standing at the threshold of a life-altering experience. Which seemed somehow so right this last week, of the final year, in the first decade of a new century.
And it was all happening beneath the elusive season of the blue moon.
Shivering, yet following the long walk somewhat sweaty under my many layers of clothes, I entered the warm lobby of the Inn and gave my name.
Wade, one of eleven staffers at Len Foote handed me a canvas bag containing a sheet, pillowcase, and towel.
Pointing me towards my room, handing me a single metal key attached to a round piece of wood that declare my space for the next few nights to be number eleven.
"The compost toilets for the Inn…" Wade explained "as well as the showers, are not located in each individual room, but instead are communal and situated in a building located separate from the bunkrooms…"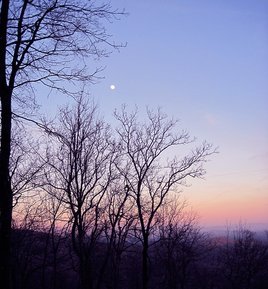 And thus began an adventure steeped in the ancient Appalachian Mountains - an adventure that included a new awareness of just what environmentalism can mean.
But before all that adventure began, Wade suggested that I grab my mug (which was to be my only mug for the duration of my stay), have a cup of tea and enjoy the beautiful property.
Making my way to my room, I found a sparce space, illuminated by a single bulb, the walls unpainted cedar with evacuation instructions the only decor. Bunk beds are fixed into the wall on one side of the room. A shelf and four coat hooks on the other. There is no electrical outlet or trashcan.
Setting down my bags, the simplicity of my humble surroundings fostered the vague idea that this would indeed be a remarkable journey.
Despite the simplicity of the rooms at the Len Foote Inn, the building itself is a marvel of Environmental Engineering and Construction. Awarded with an LEED certification (Leadership in Energy and Environmental Design), the Len Foote Hike Inn takes environmental consciousness in building to a whole new level.
This success is not only an achievement from an architectural point of view but also in the environmental awareness every aspect of the Inn brings to its guests. Able to house forty guests within twenty rooms, the Len Foote Hike Inn is a terrific peaceful escape for couples, families and individuals who want to get away from their busy day-to-day lives.
This unique and friendly destination's first goal is to gently call forth and provide an appreciation for the beauty of the natural world through a total immersion experience,
That message includes a call to arms to protect all that is nature while providing guests with a relaxing, healthy and joyful experience.
Cell phones are not to be used, and don't work even if you try, nor can one bog themselves down in the gallows of the nightly news because the Len Foote Hike Inn doesn't provide television or Internet connections.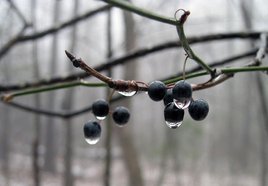 Instead the Inn offers the Sunrise Room, a beautiful community room centered on a wood-burning hearth. The rooms focal point are giant windows that face East, allowing for early morning mediations and breath-taking sunrises.
A cushioned bench circles the room's perimeter and three small tables, perfect for impromptu checkers games or puzzle assembly.
Bookshelves on conservation, wildlife, plant life, and birds native to the area populate the room along with an assortment of more contemporary novels, classical literature and a variety of children's books.
Guitars are available for the musically inclined and spontaneous guest-performed concerts go well into the night.
I spent much of my second night with two new friends trading chord progressions from Beatles songs and swapping stories.
During another evening, I met a young man who was traveling with his family and spent most of his childhood as a Christian Missionary in Papa, New Guinea. Even with a background as broad and colorful as his, he was taken by the Inn's sense of community and regard for nature.
Before dinner each night, one of the staffers hosts a tour of the facilities where guests learn just how truly remarkable the Len Foote Hike Inn is.
Water for plants and washing dishes is rainwater captured in giant fifty-gallon buckets. Each building is equipped with solar panels on the roof, providing electricity and heating water. Even the paint used on the exterior of the building meets environmental guidelines.
So seriously does the Len Foote take it's environmental awareness, that even the companies from whom they obtain things like coffee and tea must meet defined environmental standards.
The tour's climax comes to a head in a small dark room underneath the dining hall where thousands of red wiggly worms feed on office paper and leftover food. Their job is creating fertilizer for use in the staff garden where those who work at the Len Foote grow their own vegetables.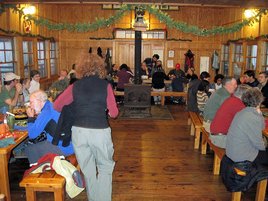 Dining is a unique process to the Inn. Serving meals "family style" bring guests of the Inn together to share in the dining experience. And then there is Inn's "Clean Plate Policy."
After a long day of hiking in the woods, one tends to develop quite an appetite and the delicious Southern inspired food causes diner's "eyes to be larger than their stomachs." Not cleaning your plate comes with consequence: A giant frowny face on a dry-erase board at the back of the dining hall.
Like everything at the Len Foote Hike Inn, this is done with good humor and a clear purpose. Food not consumed becomes waste. Waste that may be composted, but waste nonetheless.
Each evening's meal is followed by an all-inclusive program that guests are invited to participate in. These programs range in subject matter from lectures on hiking safety to live music depending upon the night.
After a meal of turkey and gravy with sides of potatoes and fresh veggies, I joined with my dining mates, participating in a Trivia game featuring the history and wildlife of the Appalachian Trail.
While everyone had fun, again, it was an example of how the Inn merges environmental education and awareness with good-hearted fun. Despite the onslaught of information, rules and restrictions, what takes place in the consciousness of each guest at the Len Foote Hike Inn is truly remarkable.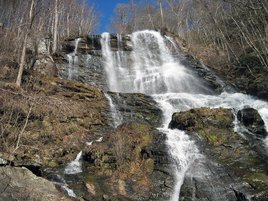 One becomes aware.
So much care is taken to protect the beautiful world that houses the Len Foote Hike Inn, that it becomes almost joyful for guests to turn off their lights or to contemplate objects that days earlier would have been thoughtlessly discarded.
I became aware of my breath and found myself living in each moment, consciously choosing how I went about interacting with it.
To clean a plate becomes a playful competition among guests on a surface level while embedding a quiet urging to become aware of what we eat and more importantly, what we don't on a deeper level. Children clean their plates down to the last carrot with the same rigor that they would expound in a game of hide and seek, all in effort to get a smiley face on the board instead of a frown.
When one visits the restrooms, despite the cold swoosh that comes when you sit on the toilet located twenty cool yards from your bedroom, you are serving a greater purpose and participating in a larger idea.
All while doing what comes, shall I say, quite naturally?
Guests who stay more than one night often grab a sack lunch and set out on the four-and-one-half mile hike up Springer Mountain.
Springer Mountain is not only one of the highest peaks in Georgia but is also host to the Southern Terminus of the Appalachian Trail where brave souls begin the first steps of an adventure that takes them over two thousand miles by foot ending atop a remote mountain peak in Northern Maine.
I spent my second day in route to, and on the summit of Springer Mount returning to my room with a greater reverence for nature, a closer sense of community, and most importantly, with a greater awareness of the natural world that I had been blessed to experience.
I felt connected to each action and each choice I made as though it left (or didn't leave) a fingerprint on the world around me. I learned something I hope will stay with me for the rest of my lifetime. I learned the luxury of being.
Matt Payne,a graduate from the University of Oklahoma, is an award-winning screenwriter and has worked in Hollywood in both film and television for eight years. In addition to authoring multiple screenplays, Matt is also a musician and a devoted traveler.
---
This article is the copyrighted property of the writer and Communities @ WashingtonTimes.com. Written permission must be obtained before reprint in online or print media. REPRINTING TWTC CONTENT WITHOUT PERMISSION AND/OR PAYMENT IS THEFT AND PUNISHABLE BY LAW.