'Something' is inarguably one of the best Beatles songs ever written. Last night, at the Hollywood Bowl, on my 32nd birthday, Paul McCartney played that song to a full house. While most of the Beatles songs he played, he wrote, this one he did not. Paul played a stripped down version of it as a tribute to his friend, former Beatle, and song author George Harrison.
Unlike the Harrison version on Abbey Road, McCartney begins this song on simply a ukulele and leads into it with loving words about his departed friend. While the message of the song is a romantic one, the ukulele brings a sort of tropical melancholy to it through the first verse. After the first chorus the rest of the band kicks in and the song becomes a bit more familiar.
While the entire concert could be best described as a spiritual experience, this song, specifically this ukulele version of this song speaks to me beyond any other. The first time I heard this version of the song was on A Concert for George, a tribute concert performed at The Royal Albert Hall in London a year after Harrison's death. I bought the CD four years ago and it has never left my car CD changer.
The song has been with me through love and through heartbreak, success and failure. The lyrics themselves make me long for love and miss the love I've lost. McCartney's reverie for his friend behind the lyrics fills me with gratitude for all of the beautiful people in my life. The simplicity of the ukulele awakens me to honesty and connectedness to the earth.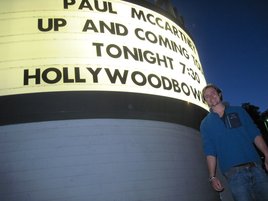 The song, which began so simply, ultimately explodes until it asks climatic question, "You're asking me will my love grow?" to which it answers itself "I don't know.. I don't know." McCartney sings this line with epic uncertainty, his gaze upward, heart completely open for just a second and in that moment, he like everyone else is left in a state of pure wonder at Harrison's musing. Seconds later the song returns to its ballad form and comes to a close. I shut my slightly teary eyes and listen to the rest speechless.
After the concert, from the hilltop, across thousands of fans, I see McCartney's mansion-like tour bus leave. In front are two SUV's, two motorcycle cops, and a highway patrolman. Behind the bus is a similar entourage.
As the affable Beatle disappears onto the 101 freeway, I think about the world he has seen, the questions he has been allowed to ask, the love he has lost, and the universal love he has received and then my thoughts return again to the certainty with which he declares "I don't know… I don't know…" and I'm left to wonder…. If he doesn't know, how can anyone? This thought makes me laugh and with a chuckle, I venture into my 33rd trip around the sun, knowing nothing.
Please share your favorite Beatles song below! Let's see what you guys think!
---
This article is the copyrighted property of the writer and Communities @ WashingtonTimes.com. Written permission must be obtained before reprint in online or print media. REPRINTING TWTC CONTENT WITHOUT PERMISSION AND/OR PAYMENT IS THEFT AND PUNISHABLE BY LAW.