Diaper rash: How to prevent it and treat your baby's bum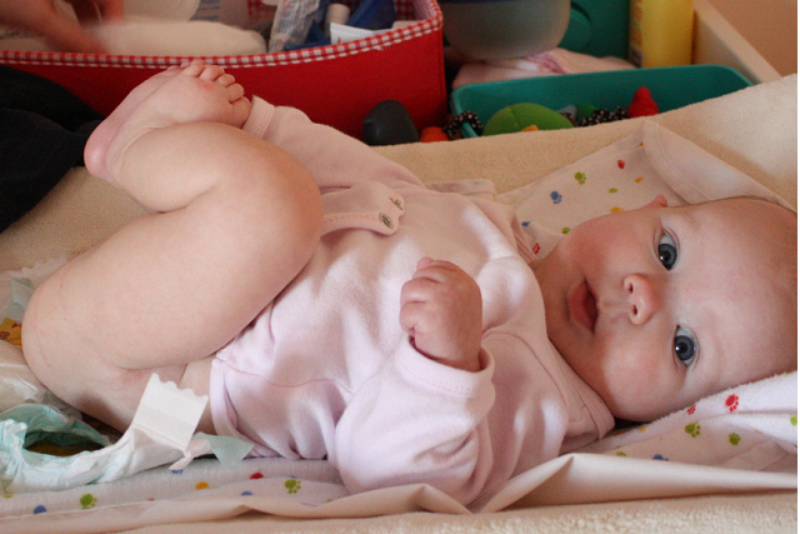 Brighid is a freelance writer and first time mother. She...
SILVER SPRING, Md, August 17, 2012 – Among the myriad of problems that can crop up in the daily care of an infant, diaper rash is a common one. Diaper rash can be uncomfortable for a little one, and mom.
The American Academy of Pediatrics says that 25% of all children develop bad enough diaper rash that their parents seek medical treatment.
Diaper rash can range from mild to severe and can develop for a few reasons, but the prime cause is moisture next to the skin for prolonged periods of time. It is most common after baby has begun eating solid foods and starts to undergo changes in the digestive process and in babies who make frequent bowl movements or who have diarrhea.
Also, if your baby has sensitive skin diaper rash can be a constant problem. The chemicals and gels in disposable diapers can irritate and in some babies can cause chronic diaper rash.
But there are some easy ways to treat and help prevent diaper rash.
First rinse the affected area with warm water and mild soap. This helps clean the area of any irritant and helps reduce the additional irritation that wiping can produce. Try to use soap only after a bowl movement to reduce any drying effect that the soap may have on the skin. Of course, choose a very mild, non drying skin free of perfumes or dyes.
After you have cleaned the irritated area, allow you baby to air dry. If possible let your child go without a diaper for short periods of time between changes to increase air circulation. Since one of the main culprits of diaper rash is continual moisture against the skin, letting your baby's bottom air dry helps reduce the potential for irritation.
Applying a thick layer of diaper ointment can provide a barrier between your baby's skin and the irritants that cause diaper rash. Diaper ointments that contain zinc oxide are generally recommended, although petroleum jellies also work well.
Change your baby's diaper frequently even if he isn't complaining. Since sitting in a wet or dirty diaper is the cause of diaper rash, decreasing the time he has a wet or dirty bum decreases the occurrence and severity of diaper rash. If your little one isn't particularly fussy about his diaper, set a schedule for yourself to ensure that you are changing the diaper frequently.
Before and after sleep and a half hour after bottles or meals is a good rule of thumb. Of course, if you notice that your child is soiling himself change the diaper as soon as he finishes.
If you've been following these steps and your little one's bottom is still red, evaluate your diapering and cleaning products. With children particularly prone to diaper rash, try wipes designed for sensitive skin and make sure they are fragrance free. If changing wipes does not seem to help, try water and a soft wash cloth.
The down side it the need to have a large number of wash cloths on hand to ensure a clean diapering routine and prevent the spread of infection that can come from using wash clothes that have come into contact with fecal matter and not been sufficiently cleaned. If using cloth wipes and water, make sure you launder them frequently and use a fresh, clean cloth at every change.
This article is the copyrighted property of the writer and Communities @ WashingtonTimes.com. Written permission must be obtained before reprint in online or print media. REPRINTING TWTC CONTENT WITHOUT PERMISSION AND/OR PAYMENT IS THEFT AND PUNISHABLE BY LAW.
sign up for
world alerts
Trending
You May Also Like
Shares

3 hours, 31 minutes Ago
Shares

6 hours, 6 minutes Ago