The run down of top culprits that have degraded our nation's health includes the usual suspects: Sugar, refined flours, hydrogenated oils, and artificial sweeteners. This list could go on, but most people would not think microwaves would be included.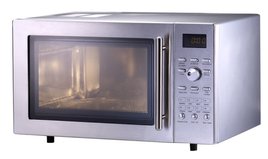 This recent Dr. Mercola article gives a very thorough summary as to why you want to get out of the habit of using the microwave oven as a shortcut for cooking and heating your foods and drinks.
Why did the Russians Ban an Appliance Found in 90% of American Homes?
Many of us may have never thought about what the ramifications are of "nuking" our food- But really think about it, Nuking?! Probably not good idea….
The issue with microwaving your food is that the "cooking" process changes the structure of the food molecules into a morphed form called "radiolytic" compounds. This process can greatly damage the nutrient content of the food and even turn the food carcinogenic in some cases. It also can modify the molecular structure of water (for those who heat their tea water or coffee in the microwave).
Another deterrent is the possibility of the microwaves leaking out of the oven, even when the door is closed. This is an aspect of microwaving we may not think about so much.
The Soviets put time into researching microwaves shortly after World War II.
A partial list of their findings included:
* Ingestion of microwaved foods caused a higher percentage of cancerous cells in blood
* Those ingesting microwaved foods showed a statistically higher incidence of stomach and intestinal cancers, plus a general degeneration of peripheral cellular tissues with a gradual breakdown of digestive and excretory system function;
* Microwave exposure caused significant decreases in the nutritional value of all foods studied- also a decrease in the bioavailability of B-complex vitamins, vitamin C, vitamin E, essential minerals and lipotrophics.
* Creation of a binding effect to radioactivity in the atmosphere.
These findings led to them banning microwaves in the mid 70's.
With so many "do's and don'ts" out there, microwaving your food can sometimes be passed over. Top health professionals all warn against using them in any manner. It may take a little extra time and preparation, but convection ovens and stove warming provide a much safer alternative.
Please read the Mercola article for more information on all the areas that were touched on.
Adam is a Reiki Master, certified Health and Lifestyle counselor, Licensed Massage Therapist, 20 year practicing bramana initiated Bhakti Yogi, Spiritual advisor, visionary, jock and veteran of the "hardcore punk scene" all rolled into one. Adam is the founder of Omkara World and produced the mind/body fitness DVD "Intelligent Fitness."
Click here for Adam's past article archive.
---
This article is the copyrighted property of the writer and Communities @ WashingtonTimes.com. Written permission must be obtained before reprint in online or print media. REPRINTING TWTC CONTENT WITHOUT PERMISSION AND/OR PAYMENT IS THEFT AND PUNISHABLE BY LAW.