I always felt that treasures can come tucked away in unexpected places and circumstances- The other day I had a great reminder of this.
As I sauntered out of one of my favorite cafes in Bethesda after a productive work session, I passed a homeless young man on my right- He was wearing a zip up one piece work suit and stocking cap with a teddybear head on the top-quite an outfit!
He had a guitar on his lap he was slowly strumming, while inaudibly uttering something to himself. He seemed totally harmless and perhaps mentally ill. I rushed into a neighboring store and then hurried back to my car with a million thoughts in my head. As I passed this young man again, he now was up playing his guitar and mumbling something about how when he sings his tunes, people just go and steal all his songs!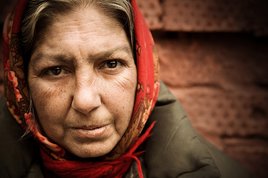 I walked by and said "well 'cause you're the man…" He smiled and in a very lucid, clear tone said "Hey could you help me out with a couple of dollars for some necessities…" As I continued my trot, I half turned his way and explained "sorry, I just spent the last bit of cash I had" (which was true). He said "No worries, God Bless You" In full stride and almost fully turned away from him I said "Thanks, God Bless You also" About a second later I heard a "HEY"
::Screeeech:: It was like a scene out of the movies, when all the music and everything just halts.
I stopped in my tracks, turned around and he said "I really meant that- God Bless You"
It almost took the breath out of me, it was so sincere and from the soul.. I said "May God Bless- you and I fully meant it also!"
I walked away stunned and realized that I blew a special moment.
My spiritual mentor, B.T. Swami, had a core principal:" Treat every interaction as though the success or failure of your spiritual life hinged on that moment" The key word in this statement is EVERY- From your family and workplace, to the supermarket cashier, and random homeless person you may pass. To have someone have to stop me and repeat "God bless you" was a great blunder on my part.
This transgression was compounded, as I went against another core principal of mine that I adopted after reading a news article about 10 years ago. It was an essay written by an ex homeless man telling some of his tales from the streets. He mentioned something that forever has stuck in my mind:
He stated the most humiliating aspect of the ordeal wasn't not having a home, not knowing when his next meal would be, or losing his dignity. He painfully exclaimed it was when he would humbly ask passerbys for some spare change, and they would just walk by without even acknowledging he existed- Day after day, week after week, and month after month. He said that it not only broke his heart, but it broke his soul.
This sorrowful example shows the true importance of human exchange. I made a mental note that if a homeless person ever asks me for anything, I was to look them in the eye and give them my answer with full attention. I feel this is the least I can do for a fellow brother or sister. If the situation is OK, then I will ask their name and introduce myself. As Dale Carnegie exclaimed: "there is no greater sound to a man than his own name.." A simple conversation like this can make a person totally light up. It may have been years since someone has shown interest in them enough to ask them their name. Could you even imagine that?
I personally view life by the richness and depth of our experiences and interactions. Some of my most treasured moments have been random dialog with homeless people. As the Everlast song goes "God forbid you ever had to walk a mile in his/her shoes, 'cause then you really may know what it's like to sing the Blues…" Just a few moments with them can help to really put one's life back in proper perspective, to say the least.
A homeless person has nothing to give you but their words, attention, smile and blessings. All the money and accomplishments in the world mean nothing if we are incapable of wholeheartedly being able to give this back to someone else- no matter who they are.
A verse from the Bhagavad Gita reads: "A humble sage, by virtue of true knowledge sees with equal vision a learned and gentle bramana (priest), a cow, an elephant, a dog, and an outcaste" We do this by honoring the divine that is within every living being- the great equalizer. If we are looking for true balance, health and harmony in all aspects of life, then we have to take this to heart.
Gifts, jewels, and gems are everywhere. True ones that is- the ones that money can't buy. The payment is our full attention to the present moment while we enter interactions and environment. Lack of proper attention lets the grand jewels of life slip right by us- Diamonds that slip through our fingers that we can never get back.
Let my botched interaction serve you as a reminder to you on how important it is to be present minded and ready to give our full attention to anyone we may come in contact with: Nature, animals, our loved ones, or the homeless. Anything less is selling ourselves short…
Adam is a Reiki Master, certified Health and Lifestyle counselor, Licensed Massage Therapist, 20 year practicing bramana initiated Bhakti Yogi, Spiritual advisor, visionary, jock and veteran of the "hardcore punk scene" all rolled into one. Adam is the founder of Omkara World and produced the mind/body fitness DVD "Intelligent Fitness."
Click here for Adams past article archive.
---
This article is the copyrighted property of the writer and Communities @ WashingtonTimes.com. Written permission must be obtained before reprint in online or print media. REPRINTING TWTC CONTENT WITHOUT PERMISSION AND/OR PAYMENT IS THEFT AND PUNISHABLE BY LAW.