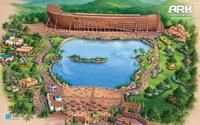 On Dec. 1, Kentucky Democratic Gov. Steve Beshear held a press conference to unveil plans for a theme park inspired by one of history's most mysterious epic structures: Noah's ark.
Titled "Ark Encounter," the proposed privately funded $150 million for-profit project is expected to be an exciting addition to Kentucky's economy. Ark Encounter may employ 900 workers and attract 1.6 million visitors in its first year, according to an America's Research Group feasibility study.
But the question-and-answer exchange after the announcement sounded like a case point destined to appear in a future edition of S.E. Cupp's book Losing Our Religion: The Liberal Media's Attack on Christianity.
"Isn't the idea of tax credits from the state or the local governments blatantly unconstitutional?" asked one reporter, who apparently thought a violation was so obvious that he didn't even need to mention the words "God," "faith," "church" or "religion" in that sentence.
"This is an application for a theme park," Beshear replied. "The law doesn't allow us to discriminate about the entertainment subject matter of theme parks as long as it's legal and in good taste … some people may not like NASCAR. But that certainly is not going to stop me from giving the incentives to Bruton Smith's company to bring a Sprint Cup race and to invest a hundred million dollars at the Kentucky Speedway to have such a huge positive impact economically on the state of Kentucky. So I'm excited about this."
"But NASCAR's not Bible days," the reporter responded.
"And the Lemon test has never been applied to NASCAR," another chimed in.
What exactly is the Lemon that these sourpusses have been sucking on?
The Lemon test was brought about by the 1971 Supreme Court case Lemon v. Kurtzman, which ruled that an act in Pennsylvania violated the Establishment Clause by allowing the state Superintendent of Public Instruction to "to 'purchase' certain 'secular educational services' from nonpublic [mostly Catholic] schools, directly reimbursing those schools solely for teachers' salaries, textbooks, and instructional materials."
Thus, the Lemon test is supposed to evaluate the propriety of government financial aid. In order to withstand judicial scrutiny, the policy must do the following:
Have a secular legislative purpose.
Neither advance nor inhibit religion.
Avoid excessive entanglement between church and state.
The secular legislative purpose of Ark Encounter is, obviously, the economic boon. Ark Encounter also neither advances nor inhibits religion because at least three different religions recognize Noah's ark (Christianity, Judaism and Islam) and a theme park doesn't force visitors to believe in the story behind its main attraction.
How could a lifelike exhibit of Noah's ark entangle church and state anymore than the Religion collection at the Smithsonian does?
Since Ark Encounter passes the Lemon test, there must be a deeper set of concerns to warrant disapproval (maybe even besides harboring a grudge against Answers in Genesis and their successful Creation Museum). Sure enough, the next day a Science Insider article quoted a geologist who is worried that the new theme park is more than unconstitutional – it might actually threaten state population:
"Daniel Phelps, president of the Kentucky Paleontological Society in Lexington, says the park is 'government entanglement with religion' and doesn't make the state attractive to scientists and technically minded individuals. 'I don't envision people, especially those with science backgrounds, wanting to move to a state where the 'ark park' has government support,' says Phelps, who works as an environmental geologist for the state."
Whether you believe the Bible or not, you have to be either ignorant or incredibly closed-minded to not politely appreciate a tasteful exploration of ancient history that is economically productive. When a November 2009 CBS News survey asked which archaeological discovery people most wanted to see next, Noah's Ark came out on top at 43%. The story of a global flood and supernaturally assisted survivors permeates human consciousness internationally.
Remarkably, the sixth chapter of Genesis provides detailed building instructions that allow us to literally recreate a structure bestowed upon the mind's eye of our ancestors. Technically minded individuals should be thrilled by such a venture, not disgusted by it.
Would the anti-ark crowd be crying "unconstitutional" over a proposal to build a theme park centered on the boat from the Epic of Gilgamesh? Doubt it.
The meticulously well-preserved Judeo-Christian Bible is respected as the single-most influential text in Western civilization, which grants its flood story particular significance. The ridiculously high sensitivity towards it exists because the story of Noah's ark is the first in the Bible's long-running series on redemption. If Biblical literature appears plausible, there is risk of the core faith and values of the Bible appearing plausible.
Where the subject of theme parks is concerned, the fear of unconstitutionality is not as likely to be substantiated as the fear of seeing lifelike renditions of one's nightmares. For some, perhaps Ark Encounter will just make Noah's Ark seem too real.
Amanda Read is an unconventional scholar, a Southerner without an accent, a Christian who hasn't been a churchgoer in 16 years and a college student who lives with eight younger siblings. A writer and artist, she blogs at www.amandaread.com and is the author of the historical drama screenplay The Crusading Chemist. Amanda is majoring in history and minoring in political science at Jacksonville State University.
Follow her on twitter at www.twitter.com/SincerelyAmanda and Facebook at www.facebook.com/AmandaChristineRead. Read more at www.amandaread.com.
---
This article is the copyrighted property of the writer and Communities @ WashingtonTimes.com. Written permission must be obtained before reprint in online or print media. REPRINTING TWTC CONTENT WITHOUT PERMISSION AND/OR PAYMENT IS THEFT AND PUNISHABLE BY LAW.