As the sabermetric movement continues to gain wide acceptance among baseball's best minds, the requirements and standards for the sport's top executives have changed accordingly.

Fans may still have a hard time grasping the meanings behind advanced statistics, and probably prefer to stick with what's posted on the scoreboard at a game and what they can see in person, but talent evaluators and scouts can't choose to ignore more accurate measurements of player success than more well known traditional statistics.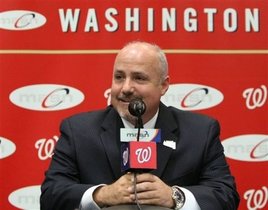 A recent study conducted by Glenn Wong and Chris Deubert, entitled Major League Baseball General Managers: An Analysis of Their Responsibilities, Qualifications and Characteristics, highlights demographic shifts in MLB general managers that reflect on an increased emphasis on advanced scouting and baseball as a business.

Here are a some of the study's findings based on GM trends from 1989 to 1999 to 2009:

- Major League playing experience among GMs has decreased over the past 20 years (27% in 1989 to 23% in 1999 to 10% in 2009). Many more GMs did play in college (54% to 67% to 60%), but minor league experience has become less common (54% to 50% to 33%).

- The academic achievements of GMs have increased since 1989, but not by leaps and bounds. In 1989, 69% of GMs had undergraduate degrees, while in 1999 and 2009, 80% had a four-year degree. In both 1989 and 1999, only one GM had his degree from an Ivy League institution, whereas in 2009, four GMs had Ivy League degrees.

- In 1999, two GMs had law degrees, but in 2009, only one GM has a law degree (Theo Epstein of the Boston Red Sox). Four GMs have athletic/sport related master's degrees: Dayton Moore of the Kansas City Royals, Jack Zduriencik of the Seattle Mariners, Jim Hendry of the Chicago Cubs and Neal Huntington of the Pittsburgh Pirates.

- The average age of GMs has decreased over the past 20 years, except in 2009 (52.2 in 1989, 45.8 in 1999, 47.1). That anomoly can be attributed to nine GMs in 1999 remaining at the position with the same or a different team in 2009.

- First-time general managers have been increasingly hired at a younger and younger age since 1989 (46.3, 41.1, 39.7), and the number of GMs over 60 and under 40 have gone from six and one in 1989, respectively, to zero and five in 2009.

- Almost all GMs have held scouting or talent evaluation positions at one point in their careers (81% in 1989, 87% in 1999, 90% in 2007). However, 50% of 1989 GMs had begun their careers in the minors, and that number has decreased significantly to 3% in 1999 and 10% in 2009.

- There were actually more GMs in 1989 (23%) that had extensive non-baseball business experience than in 1999 (7%) and 2009 (3%).

In 1989, the average MLB general manager hire was likely to be an ex-professional ballplayer over the age of 45 with a college undergraduate degree. By 2009, the job description had opened up to anyone under 40 with a necessary college degree in a related management field, along with experience playing the game at some level. Experience with the talent evaluation process has always been required, except in a few circumstances.

There is a consistently decreasing emphasis on the "older means wiser" myth and the traditional assumption that name recognition and professional playing experience matter more than business savvy and managerial capabilities. In turn, the increasing demand for a combination of baseball knowledge and academic success proves that the general manager's job criteria has changed as the landscape of baseball is constantly being renovated thanks to new developments in scouting talent.

Source: Wong, Glenn and Deubert, Chris, Major League Baseball General Managers: An Analysis of Their Responsibilities, Qualifications and Characteristics (April 1, 2010). NINE: A Journal of Baseball History and Culture, Vol. 18, p. 74, Spring 2010. Available at SSRN: http://ssrn.com/abstract=1587675
Read more from Jake McCormick here or follow him here.
---
This article is the copyrighted property of the writer and Communities @ WashingtonTimes.com. Written permission must be obtained before reprint in online or print media. REPRINTING TWTC CONTENT WITHOUT PERMISSION AND/OR PAYMENT IS THEFT AND PUNISHABLE BY LAW.