By Jake McCormick

With Melvin Mora, Kevin Millar, and Byung-Hyung Branca, I mean Kim, dominating recent MLB transaction headlines, it's safe to say that the hot stove has cooled to a sizzle and most competitive teams are looking forward to pitchers and catchers reporting in a few weeks.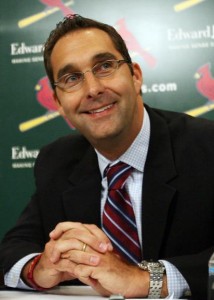 The NL Central has been one of the busiest divisions this offseason, as the top hitting and second best pitching free agents have decided to call the Midwest their home. The heirarchy of the division has been largely dominated by the St. Louis Cardinals, Chicago Cubs, and Milwaukee Brewers over the past three years, and all three teams made significant moves that will have inevitable impacts on their overall make up.

The Cardinals, Brewers, and Cubs will again finish as the top three teams in the Central, and the difference in the final standings could very well be decided by their new arrivals. Each team has a best, worst, and sleeper candidate that will impact their chances for October baseball:

St. Louis Cardinals

Best: Matt Holliday
After coming to the Cardinals last summer, Holliday matched, and at points outperformed, Albert the Great to help St. Louis set itself apart as the best team in the NL Central. Holliday is clearly more comfortable in the National League, and will give the Cardinals a devastating middle order for at least a few more years.

Worst: Matt Holliday
I was tempted to put not resigning Joel Piniero in this spot, but with the money the Cardinals gave to Holliday, they have a much bigger fish to fry after 2010. If Holliday played a half season and signed a seven year, $120 million contract to break the Cardinals' bank, what should Pujols expect when his contract runs out in 2011?

Sleeper: Rich Hill
Brad Penny is an obvious choice for a Dave Duncan bounceback, but Hill has shown flashes of quality stuff with the Cubs and Orioles. Hill may not turn into anything, but he was acquired for cents on the dollar and has more pressure to stay healthy than win a rotation spot.

Overall grade: B-
GM John Mozeliak seemed to have no choice but to bring back Holliday to keep their best possible lineup intact to go with a devastating pitching combo of Chris Carpenter/Adam Wainwright. The Cardinals look as spent as the Brewers, but will still be the favorites to win the Central.

Milwaukee Brewers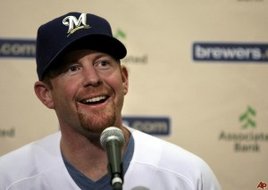 Best: Randy Wolf
With the third highest runs scored in the National League, the Brewers' biggest hole doesn't lie within the lumber, but rather their five innings or less starting pitcher philosophy. Wolf was the best left handed starter on the market and is an immediate improvement over the pudgy, gopherball tandem of Braden Looper and Jeff Suppan.

Worst: Carlos Gomez
There's a lot of potential with Gomez, seeing as he was the focal point of the Johan Santana trade with the Mets, but that's all he's brought to the table so far in the Majors. He'll be a strong defensive replacement for the departed Mike Cameron, but it was clear that JJ Hardy's trade value had already passed its peak when this trade was announced.

Sleeper: Doug Davis
Davis' return to Milwaukee costs almost exactly what the Brewers paid a year ago for Braden Looper (Davis: $4.25 million, $1 million buyout/Looper: $4.75 million, $750,000 buyout), and he's simply a better pitcher. A year after featuring only one lefty in their rotation, Milwaukee now has shifted to a potential majority of southpaws if Manny Parra figures out how to pitch.

Overall grade: B+
Like Austin Powers, Melvin is spent. In his toughest offseason yet, the 'Stache made confident decisions that have answered some questions and asked so many more. Either way, the seats will be filled in Miller Park.

Chicago Cubs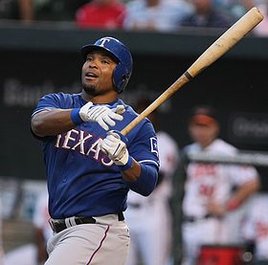 Best: Marlon Byrd
Byrd's not a high impact player, but he gives the Cubs consistency and depth in the outfield by moving lefty Kosuke Fukudome over to right field to potentially split time with righty Xavier Nady. Byrd will definitely benefit from moving from a pitcher's to a hitter's park, while still keeping his hitting coach.

Worst: Carlos Silva
The cancerous Milton Bradley was exchanged for the herpes that is Carlos Silva. Moving Bradley was never going to give the Cubs a quality replacement in return, but Silva is like getting a Yugo for a BMW with a few fixable parts.

Sleeper: Xavier Nady
Provided he stays healthy, Nady's return to the National League could be a huge boost for the Cubs' lineup and his overall performance. Nady has a career .304 average in 28 games at Wrigley Field with two homers, eight doubles, and 15 RBIs, and is playing on a one year deal, which typically nets a very productive season auditioning for 2011.

Overall grade: B-
GM Jim Hendry had a tough offseason of trying to convince someone to take Milton Bradley for anything better than a Gatorade machine (Silva is actually less useful, but take what you can get) and with the transfer of ownership to the Ricketts family, couldn't spend the money necessary to improve the team dramatically. Nady and Byrd will make up for Bradley's production, but Cubs fans will always be left wondering what could have been if Bradley succeeds in Seattle.
---
This article is the copyrighted property of the writer and Communities @ WashingtonTimes.com. Written permission must be obtained before reprint in online or print media. REPRINTING TWTC CONTENT WITHOUT PERMISSION AND/OR PAYMENT IS THEFT AND PUNISHABLE BY LAW.