It's the little movie that could … beat the biggest box office hit of all time.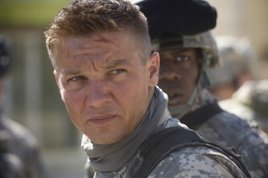 "The Hurt Locker," the explosive Iraq War drama, is set to upset "Avatar" this Sunday during the Oscar telecast, according to a new study measuring the film's Twitter impact.
Waggener Edstrom Worldwide, using its WE twendz pro service, made the prediction based on Twitter community conversations.
The service, according to Waggener, "helps measure brand impact and engage audiences on Twitter, revealing conversation topics and gauging tenor, themes and drivers of those conversations."
"We identified a clear leader for best picture, and determined that Roger Ebert, one of the foremost respected film critics, is leading the discussion — proof that influence can and is crossing media channels and mediums," says Karla Wachter, senior vice president, product development, at Waggener Edstrom Worldwide, in a statement.
We won't know how accurate the service is until Sunday evening when the final envelope is opened. But if the prognostication proves correct, it may give Oscar fans another way to predict future winners.
---
This article is the copyrighted property of the writer and Communities @ WashingtonTimes.com. Written permission must be obtained before reprint in online or print media. REPRINTING TWTC CONTENT WITHOUT PERMISSION AND/OR PAYMENT IS THEFT AND PUNISHABLE BY LAW.