It took only a few days for John Crowley to get comfortable with the idea of a writer penning his remarkable story, that of a father who risked everything to find a cure for his children's illness.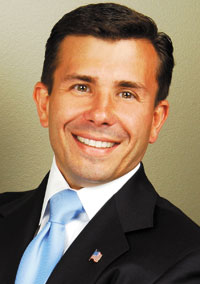 But when Hollywood came calling Crowley wasn't so easy to win over.

"Our initial reaction was skeptical and a little bit apprehensive," says Crowley over what would become "Extraordinary Measures," the new film starring Brendan Fraser and Harrison Ford.

"It's not our film. We don't have any right of review or approval of the script," Crowley says of his thinking at the time.

It turned out the film's stars and producers wanted as much input from the Crowleys as possible.

The events depicted in the movie seem too fantastic to be true. The Crowley family tried every medical treatment possible to cure two of their three children who suffer from Pompe Disease, a neuromuscular disorder which once meant death for those born with the condition.

Only when John Crowley quit his job and gambled everything to fund the research of a radical scientist did hope for his sick children blossom.

The finished movie even echoed the tone he hoped it would portray.

"I didn't want it to be heavy, to be melodramatic," he says. "When you come to our house it's not a sad, heavy place. The kids are just different, they're special. We wanted to make sure that was captured, as did the studio and the producers."

Crowley served as a consultant on the film. The position wasn't just an honorary title.

We were "intimately" involved, he says. Producers sent him various versions of the film's script and Ford, Fraser and other "Measures" key players visited New Jersey to meet the Crowley clan.

"They rewrote parts of the screenplay after they spent time with [Megan]," he says of his ebullient daughter.

"Extraordinary Measures" takes some liberties with the Crowleys' saga, like using Ford's scientist character as a composite of several researchers John Crowley worked with to come up with the new treatment.

Two of the Crowley's three children still have Pompe Disease, but the medicine John Crowley helped fund is keeping them stable.

"They're still very special kids, still in wheelchairs, and still in the 6th, 7th, and 8th grade in public school in New Jersey," he says.

Crowley has gotten to know the current U.S. medical system in a way he likely never wished he would. And he has some advice for legislators grappling with health care reform.

"I hope they make sure to put the concept of innovation, and the need for newer and better medicines and the underlying goal of making sure that we continue to advance, improve and extend people's lives, at the forefront of the debate," he says. "I hope that's not lost."
Christian Toto is a veteran journalist and film critic whose work appears in The Denver Post, The Washington Times and PajamasMedia.com. He blogs on film at What Would Toto Watch?
---
This article is the copyrighted property of the writer and Communities @ WashingtonTimes.com. Written permission must be obtained before reprint in online or print media. REPRINTING TWTC CONTENT WITHOUT PERMISSION AND/OR PAYMENT IS THEFT AND PUNISHABLE BY LAW.