DENVER — It's rare to sit through a children's film that lets adults feel a fraction of the joy it generates with the toddlers.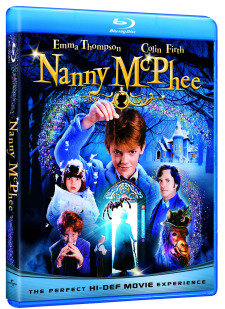 "Nanny McPhee" qualifies, no doubt, thanks to its sweetly sour story and a winningly restrained turn by Emma Thompson as the unsightly Nanny.

The film's candy-color visuals vibrate in the Blu-ray version, out Aug. 17, and the imaginative tale is sure to grab the young and not so young.

It's not a shock that a sequel is heading our way soon,which makes the release of the original on Blu-ray both fortuitous as well as commercially sound.

Thompson stars as the titular Nanny, a frightening woman with a face full of moles and a nose spliced from W.C. Fields' DNA.

She's called upon by the Browns – seven unruly kiddies and their overmatched father, Cedric (Colin Firth) – to bring order to their home. Nanny does just that within a few minutes of screen time thanks to her firm manner and magical walking cane.

But the family faces a bigger problem than mischievous tykes. If Cedric doesn't remarry – and soon – the family's rich aunt (Angela Lansbury) will revoke their funds.

The Blu-ray "McPhee" explodes with wondrous set design, elements crucial to the genre but harder to evoke than one might think. Credit director Kirk Jones for maximizing the look of the film and never letting the array of rainbow-colored sets overwhelm the story. The child actors are uniformly excellent – uncommonly adorable and dramatically solid when needed.

And then there's Thompson, who also wrote the whimsical screenplay. She makes Nanny almost a side character, a plot device gleefully nudging the story toward the predictable conclusions.

The slapstick humor isn't groundbreaking, but it's crafted with care and involves the ageless comedy staple – the food fight. Just don't expect the kind of comedy "Mary Poppins" might produce.

The copious Blu-ray extras include a look at the makeup needed to turn the lovely Thompson into the frightening Nanny. Most makeup artists brag about the number of hours actors need to endure such makeup transformations. Here, the moles and nose applications took less than an hour, but it's fun to watch the process all the same.

Other extras include deleted scenes, a gag reel and commentary from Jones and the youthful cast.
Christian Toto is a veteran journalist and film critic whose work appears in The Denver Post, The Washington Times and PajamasMedia.com. His movie reviews are heard on WTOP radio and "The Dennis Miller Show," and he blogs on film at What Would Toto Watch?
-AH-
---
This article is the copyrighted property of the writer and Communities @ WashingtonTimes.com. Written permission must be obtained before reprint in online or print media. REPRINTING TWTC CONTENT WITHOUT PERMISSION AND/OR PAYMENT IS THEFT AND PUNISHABLE BY LAW.