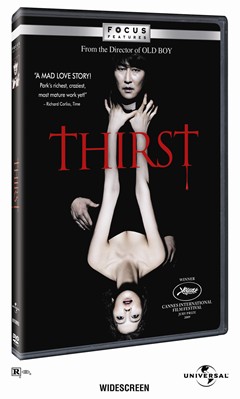 Forget about Team Edward or Team Jacob, the dueling sides of the tween-friendly "Twilight" series.
You'd be far better off voting for Team Park Chan-wook, the director behind "Old Boy" and the new to DVD "Thirst."
The latter, released Nov. 17, takes the tired vampire film in bold, sometimes beautiful directions.
If one's image of beauty involves a lyrical tale of one man's quest to hold his appetites at bay.
"Thirst" stars Kang-ho of 'The Host" fame as Sang-hyun, a priest fed up with how little impact he has on helping the world become a better place.
So he volunteers for an experimental vaccine meant to eradicate a leprosy-style condition. But the experiment fails and he's left with the blistering disorder, a certain death sentence.
A last minute blood transfusion saves his life, but wouldn't you know some orderly must have swapped out regular blood for vampire plasma.
Let's hope such emergencies are covered in the ongoing debate over health care.
Now, Sang-hyun needs blood to stay alive and keep his affliction at bay. But those maladies pale compared to his lust for Tae-ju (Kim Ok-vin), the wife of an old friend who stirs feelings within him that are far from fatherly.
"Thirst" does the near impossible for much of its running time - it makes the vampire genre feel brand new. Suddenly the sight of an otherwise unremarkable man lifting heavy objects over his head and bounding from rooftop to rooftop seems like a vision we've never encountered before.
The love story here is quixotic to say the least, but it's orchestrated in a blunt fashion, daring us to judge the characters' and their actions. Ok-vin is marvelous as a women whose actions remain unpredictable until the film's final, haunting image. And watching Sang-hyun wrestle with his faith and newly found desires makes his character a true original.
But getting there is a chore. "Thirst" tacks on a good half hour of needless distractions and twists that leave the film's moral questioning behind.
"Thirst" remains compelling despite its raggedy plot and gory diversions, that rare genre film able to shake up our preconceived notions.
Christian Toto is a veteran journalist and film critic whose work appears in The Denver Post, The Washington Times and PajamasMedia.com. He blogs on film at What Would Toto Watch?
---
This article is the copyrighted property of the writer and Communities @ WashingtonTimes.com. Written permission must be obtained before reprint in online or print media. REPRINTING TWTC CONTENT WITHOUT PERMISSION AND/OR PAYMENT IS THEFT AND PUNISHABLE BY LAW.