A DVD won't fit in an ordinary tube sock, but they slip just nicely into a novelty Christmas stocking.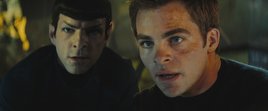 So since 'tis the season for merriment and gift giving, here are Movies in Toto's tips for the movie lover in your life.
For the action junkie: "Star Trek" (Single Disc Edition - $29.99 retail) - Director J.J. Abrams goes where the aging franchise desperately needed to go - into the 21st century of movie making. A fine young cast brings Kirk, Spock and the gang back to life, and the film's blistering action sequences will keep adrenaline addicts smiling all season long.
For the serious cinephile: "Chinatown: Centennial Collection" ($16.99 Barnesandnoble.com) - Yes, director Roman Polanski may spend the holidays either in jail or under house arrest. But that doesn't change the fact that his 1974 film noir classic can stand up to repeat viewings.
For the Frat boy who won't grow up: 'The Hangover" (Unrated Two-disc Special Edition - $34.99 retail) - The summer smash works as a hilarious comedy, a showcase for rising star Ed Helms and a deterrent for anyone who thinks, "whatever happens in Vegas, stays in Vegas."
---
This article is the copyrighted property of the writer and Communities @ WashingtonTimes.com. Written permission must be obtained before reprint in online or print media. REPRINTING TWTC CONTENT WITHOUT PERMISSION AND/OR PAYMENT IS THEFT AND PUNISHABLE BY LAW.