EAGAN, Minn. - Michael Maguire pledged to hold on putting out his political lawn signs until after Labor Day. Why? He wasn't in a primary election. And, he thought the campaign season has been lengthening and voters may become fatigued. He did not want to contribute to a summer of political sign clutter.
Do you find the political season too long? Do you love or hate the lawn signs?
When you see a sign, do you think "I would like to know more about this candidate?" Or, "I can't wait until after election day for the signs to disappear!"
Maguire is the current Mayor of Eagan, Minnesota. It is the eighth largest city in Minnesota (population 67,448). He has served one term and is up for reelection in November, 2010.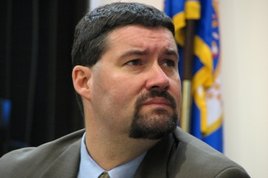 "Yesterday I talked with a resident who appreciated that my lawn signs just went out this weekend," Maguire said during a telephone interview. "More questions have come from political campaign strategist about the wisdom of it."
The other mayoral candidate is Joey Browner. He is a former professional football player for the Minnesota Vikings from 1983-1991. The Vikings are a beloved team.
Thus, the competition for name recognition is high in the mayoral race.
Name recognition is the primary goal of lawn sign candidate marketing. Using the old rule of seven, the strategy is that if a person sees a name multiple times they will remember it.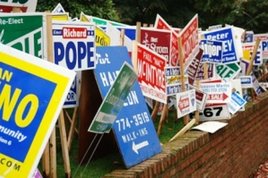 In my neighborhood I know that at least one neighbor does not like lawn signs. That is because our neighborhood covenant forbids lawn signs. We did not live here when the covenant was written so do not know the precise thinking behind the policy. Nor do we know the neighbor(s) who came up with the idea in the first place.
This is the first political season that I have thought much about the political choices around lawn signs. Not Maguire. On his web-site he asks:
"Is a 'Summer of Signs" necessary?
The Maguire for Mayor campaign is working to preserve the beauty of our community and reduce unnecessary political sign- clutter-through the summer. He's calling on local and statewide candidates who are not in competitive primary elections to pledge: "No campaign sign before its time," and to wait until after Labor Day to distribute and display campaign signs."
Now the signs are out. And the political campaign via lawn signage begins.
Please Comment: What do you think of political lawn signs? Does your neighborhood or community have any ordinances about signage?
Note: Mayor Maguire is the brother-in-law of the writer.
Photo Credit: Maguire for Mayor campaign website
Leadership development expert & consultant, Donna Rae Scheffert helps propel people toward their goals easier, faster, and with more fun. Sign up for a RSS feed and read more from Donna Rae at Online-Leadership-Tools. Follow Donna Rae on Twitter or LinkedIn.
---
This article is the copyrighted property of the writer and Communities @ WashingtonTimes.com. Written permission must be obtained before reprint in online or print media. REPRINTING TWTC CONTENT WITHOUT PERMISSION AND/OR PAYMENT IS THEFT AND PUNISHABLE BY LAW.