NORTHFIELD, Minn. — School starting means the National School Lunch Program is operational, too. In 2007, 30.5 million children got their lunches each day.
Back in my day, I am not sure how many of us were "free-lunch kids." I used the lunch tickets routinely, as did many of my friends.
The NSLP is a federally assisted meal program. It operates in public and nonprofit private schools and residential child-care institutions.
The free- and reduced-lunch program provides nutritionally balanced, low-cost or free lunches to children each school day. The program was established under the National School Lunch Act. It was signed by President Harry Truman in 1946 (USDA website, 2010).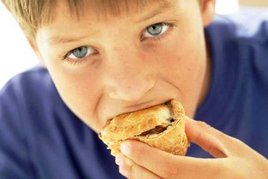 Children from families with incomes at or below 130 percent of the poverty level are eligible for free meals. Those with incomes between 130 percent and 185 percent of the poverty level are eligible for reduced-price meals.
Students can be charged no more than 40 cents. (For the period July 1, 2009, through June 30, 2010, 130 percent of the poverty level was $28,665 for a family of four; 185 percent was $40,793) (USDA factsheet, 2010).
As I think back about being a free-school-lunch kid, it doesn't mean much to me. The bus we rode to K-12 school was free. Our books were free. We didn't pay for after-school activities or field trips. And we didn't pay for lunch either. Pay directly, anyway.
Since 2002, the number of students receiving free meals has increased steadily. Across Minnesota, the percent of students receiving aid grew to 27.7 percent of all students enrolled during the 2009-2010 academic year from 20.1 percent during the 2002-2003 academic year.
In my home school district, the rates have increased at a similar rate, to 18.3 percent of all students in 2009-2010 from 10.7 percent in 2002-2003 .
Students also may receive reduced price meals if they are current receiving:
Food Stamp Program benefits
Food Distribution Program on Indian Reservations (FDPIR) benefits
Temporary Assistance for Needy Families (TANF) benefits
Identified as a migrant under the Migrant Education Program (MEP)
Identified as homeless under the Runaway and Homeless Youth Act (RHYA)
McKinney-Vento Homeless Assistance Act
Children enrolled in federally-funded Head-Start centers meeting the low-income criteria
pre-kindergarten children participating in Federally-funded Even Start Family Literacy Programs
Free lunch is the one federal subsidy program that I have participated in. That was decades ago. My hope is that young people benefitting today can focus on their studies instead of their empty stomachs. And grow and develop, becoming contributing citizens.
Special Thanks: Carleton College students for sharing their research paper on "Feeding Poverty: An examination of poverty in Northfield, MN through the lens of food" by Patty Dana, Inara Makhmudova, Charlotte Turovsky, 2010
Please comment: What experiences do you have with the free- or reduced-lunch program?
Donna Rae Scheffert is a management and leadership consultant and owns Online-Leadership-Tools. Sign up for her RSS feed or follow her on LinkedIn or Twitter.
---
This article is the copyrighted property of the writer and Communities @ WashingtonTimes.com. Written permission must be obtained before reprint in online or print media. REPRINTING TWTC CONTENT WITHOUT PERMISSION AND/OR PAYMENT IS THEFT AND PUNISHABLE BY LAW.