If you walked past a dime on the ground, would you pick it up and then throw it away? Of course not!
Each time you throw away a 'box top for education' label it is just like throwing away a dime. When you clip out the label and give it to your school they can send it to the company and receive a payment for it. That is how you turn trash into cash.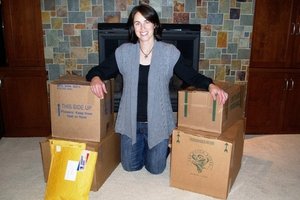 "Why throw away things that you can get money for?" asks parent Karen Roback. Last year her children's elementary school raised nearly $4,500.
All it takes is students and families willing to save, volunteers willing to sort, and leaders to organize.
Karen has been the lead organizer for five years at one elementary school. She runs a campaign twice a year. Families save year round and collections are held in the fall and spring.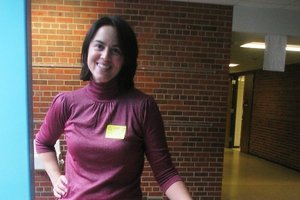 The name "Trash to Cash" is used by Roback to add visibility to the project. All students and families are encouraged to save box tops, labels, ink cartridges, milk caps, and more.
Monies generated help their parent teacher organization support many needs—from basic supplies to playground equipment. Over the past five years, her school has received at least $15,000 from saved trash. Each year the total increases.
How did Karen get involved?
She moved from the East Coast to the Midwest six years ago with her husband and three young children. She had saved labels for her previous school and saw the power of the dollars raised.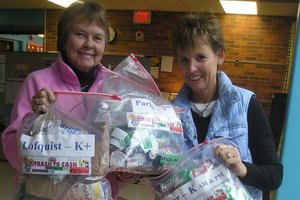 In her new school, there were garbage bags full of saved stuff. A previous effort had stalled. So, Karen and a few others sorted through the bags organizing everything into the various product categories. After they figured out the right processes, they mailed them into the companies. The school received almost a thousand dollars.
After the first successful effort, Karen was motivated to make this project even better. She began to brainstorm ways to let school families know about the 'trash to cash' project and to encourage them to start saving.
As the project grew she continually enlisted the help of others. First, her oldest child helped. Next, a group of other parents from the school lent a hand. Now, her family, volunteer parents/grandparents and a school classroom partner with the campaign. This year 4th graders made posters, gave school announcements and helped with the collecting.
As a volunteer, it hasn't been all work and no play. Karen attended Box Tops University sponsored by General Mills. There she met other volunteers and heard good ideas. They also gave her many free samples to take home for her family to enjoy.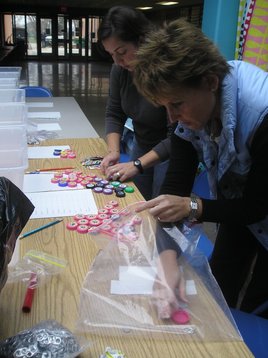 Karen also enjoys promoting the campaign. She creates contests and plans fun prizes. To create unity within the grades, prizes are often awarded on a grade-level basis. Examples of prizes that have been awarded include make your own ice cream sundae parties, nacho parties and extra recesses.
Now she is so into this project that she has to restrain herself in the grocery store. For example, she will see a shopper with a product in their cart with a label worth twenty-four cents. She holds herself back from approaching them to remind them to save it to help the schools-usually.
Her sister even sends her stuff from Canada.
Overall, seeing the total amount raised is the ultimate reward. "It's hard to turn down a deal like this!" says Roback. Each year more trash is turned into more cash. This fall, her school raised $2,300.
"Instead of complaining about our schools needing more money, this is a way to be part of the solution," she says.
There are plenty of products that still go into the trash. It is estimated that the 'box tops for education' promotion alone has 7 seven billion box tops in the market. Just 434 million are turned in to cash.
That means that 94% of the valuable box tops now go into the trash.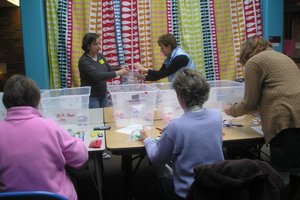 Get involved in your own 'trash to cash' project.
Search for companies in your area. Here are some participating companies: BoxTops4Education, Tyson, Nash Finch, Kemps, Milk Moola, and Save Five for Schools.
Feel free to post your comment naming other companies who support efforts like this.
(Source: Box Tops for Education numbers are cited from a flyer developed by another organizer).
Photos: Volunteers at Sibley School sorting the valuable products.
Leadership development expert & educator, Donna Rae Scheffert knows how public action by others for others improves lives - she helps people to get involved and provides tools to propel them toward their goals easier, faster, and with more fun. Read more from Donna Rae at Online-Leadership-Tools and follow Donna Rae on Twitter or Facebook.
---
---
This article is the copyrighted property of the writer and Communities @ WashingtonTimes.com. Written permission must be obtained before reprint in online or print media. REPRINTING TWTC CONTENT WITHOUT PERMISSION AND/OR PAYMENT IS THEFT AND PUNISHABLE BY LAW.