By Donna Rae Scheffert
One of my favorite activities is giving away other people's money. I have given away more than $100,000.
No, it is not illegal. It is what a community foundation does.
In early December I would call dozens of nonprofit leaders. And let them know that they will receive a check for $1,000 to $5,000.
Some would cry. Good tears.
This year I have no money to give away or telephone calls to make. My term ended at the community foundation. I really miss it.
Luckily for me, the foundation recently had a 15th birthday party. My heart was warmed seeing nonprofit leaders. They brought displays featuring good work funded by the foundation.
I talked with Liz who directs the youth choir. She said that requests for scholarships have soared. Kathy, from the library, had photographs from the summer reading program.
How did these organizations get the extra funds they needed? They applied to the local community foundation.
A community foundation is set up to receive, manage, and disburse funds. Contributions come from individuals, families, businesses, and charitable organizations.
Pooling the funds together builds an endowment. Then the earnings are used for community needs and interests.
Does your community have a community fund or foundation? If not, consider creating one.
Why create a community foundation? It is a gift that keeps on giving. An 'endowment' is the official term for this long-term investment. Only interest earnings are expended.
Interest earnings can make a difference. Here are statistics from our community about the amount given as grants:
2008-$36,000
2007-$10,000*
2006-$20,015
2005-$10,000*
2004-$33,100
2003-$27,510
2002-$25,000
2001- $9,950
1994-2000 - $0**
*The Board of Directors decided to let the endowment build and gave fewer grants.
**In the early years the fund was being built and no grants were awarded.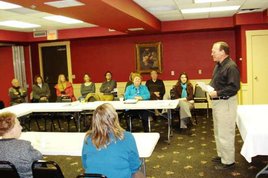 These numbers may look large or small to you depending upon the size of your community. We live in a town of 20,000 people. Another reason to set up a foundation is to end an argument about what specific area to fund. How do you decide between the arts, library, or hospital? They are all essential.
At our community foundation you do not earmark a special area to fund. You rely on the current board of directors to understand the community needs and opportunities.
For example, in 2008, we identified that three goals had been met. They include:
1) Bringing more state and national resources to our town
Examples include –
-renewable energy solutions,
-Latino leadership development,
-musicians,
-historical actors,
-youth development trainers,
-character education, and
-parent education
2) Meeting unmet needs
Examples include –
-dental care for kids,
-youth activity fees,
-low-income student college applications fees and transportation for campus visits, and
-field trips for autistic young people
3) Supporting community volunteerism
Examples include –
-volunteer provided dental services,
-students involved in service learning,
-stage for the community band,
- peer trainers at the middle and high school,
-volunteers restoring historical buildings, and
-a public installation of a sculpture for the new river walk
Most years between ten and twenty different organizations get grants.
One year just one grant of $10,000 was given to a community collaborative. Our city owned hospital had rising unpaid bills. A group got together and formed Healthfinders, a free clinic for non-insured people. We were the first non-urban community in the state to host a free clinic.
Our community is not unique. We have community projects in need of funding. We have some visionary leaders who started the community foundation. The story of how our community got started in shared in a video called 'Who We Are.' A second short video, from the perspective of those receiving grants, is called 'Giving Back. '
Many states help communities start a community fund or foundation. Some states match local dollars with state dollars to jumpstart your fund.
If you have experience with a community foundation, please comment.
Photo Credit: Gualtiero Boffi
Leadership development expert & educator, Donna Rae Scheffert knows how public action by others for others improves lives - she helps people to get involved and provides tools to propel them toward their goals easier, faster, and with more fun. Read more from Donna Rae at Online-Leadership-Tools where you can sign up for the RSS feed and/or follow Donna Rae on Facebook or Twitter
---
This article is the copyrighted property of the writer and Communities @ WashingtonTimes.com. Written permission must be obtained before reprint in online or print media. REPRINTING TWTC CONTENT WITHOUT PERMISSION AND/OR PAYMENT IS THEFT AND PUNISHABLE BY LAW.