Flavor Palm Beach kicks off its monthlong food celebration Aug. 27 with a waterfront gala featuring some of Palm Beach County's top restaurants.
The kickoff party, from 5:30 p.m. to 8:30 p.m. at the West Palm Beach Waterfront Commons, not only tempts guests with sumptuous food and drink but also benefits the American Red Cross.
For only $30, guests will enjoy the new park created by designer Michael Singer, including a water garden – complete with swings – a new stage, and 12 acres of lawn all overlooking the Intracoastal Waterway. The event will feature entertainment from String Theory Band and Palm Beach Atlantic University Dancers, culminating with a light show.
The real focus is the food. Participating restaurants include Capital Grille, Melting Pot, iii Forks, Morton's, Reef Road and Talay Thai. Capital Grille will serve kona-crusted sirloin and its signature drink, the Stoli Doli; iii Forks will share bread pudding and its famous, creamy after-dinner drink; Morton's will, of course, show why its steak is world famous; and Reef Road will offer a selection of appetizers.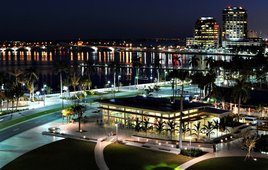 The kickoff party is the start of Flavor Palm Beach, which lets us take advantage of the lull before the true start of "season" with fantastic dining opportunities. From Sept. 1 through Sept. 30, diners get a three-course lunch for $20 or a three-course dinner for $30 from any of the participating restaurants. Those include multiple choices from throughout Palm Beach County, including iii Forks, Café Chardonnay, Capital Grille, Gazebo Café, Irnowood Grille, Ruth's Chris, Season's 52, Solu at the Marriott Resort and Spa, Talay Thai, BB Kings, City Cellar, il Bellagio, Kona Grill, McCormick & Schmick's, Saito's Japanese Steakhouse, Thai Jo, Morton's The Steakhouse, Top of the Point, Pistache French Bistro, Reef Road, Cucino Mio, City Oyster, LOLA Restaurant and Ultra Lounge and The Melting Pot.
For full details, visit https://flavorpalmbeach.com/New_Home_Page.html.
-AH-
---
This article is the copyrighted property of the writer and Communities @ WashingtonTimes.com. Written permission must be obtained before reprint in online or print media. REPRINTING TWTC CONTENT WITHOUT PERMISSION AND/OR PAYMENT IS THEFT AND PUNISHABLE BY LAW.