LOS ANGELES, December 24, 2011–Meat! There are certain times that there's no greater protein than a huge pile of red meat. The holidays are a perfect time to splurge and take advantage of these succulent proteins. A protein near and dear to my heart is Prime Rib.
As I would drive up to my grandmother's house in Kansas City for the Holidays, I was always pleasantly surprised by the smell of the Prime Rib that was roasting in the oven. She had an old stove that she lit with a match and, despite the archaic nature of her oven, the prime rib was always superb. With each bite, the bright red meat melted in my mouth leaving me salivating for more.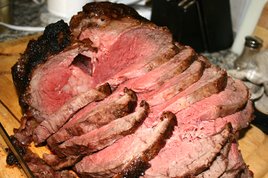 I grew up in the Midwest where everyone eats meat. Whenever I come home from LA, my mom has a beautiful rack of lamb or New York steak waiting for me to celebrate my arrival. Even though I tell her that my diet is primarily vegetarian, she cooks meat regardless and I happily partake.
These cherished moments around the dinner table eating time honored traditional meals have left me with warm feelings toward something I don't typically eat. Returning to tradition and bringing food into moments will give any experience more depth.
I learned it's not only important to cook a piece of meat well but it's also important to pick the right cut of meat and figure out the right cooking method. Equally important is the marinating process. Seasoning the meat on both sides will ensure that when you take it out of the oven it will give you a flavorful outcome.
From a health perspective, I always suggest the leanest cuts such as the filet or the sirloin. Portion size is a must for those who don't eat it regularly and especially for those who do. The smaller the amount ingested the better, which is around 4-5 oz., and is comparable to the palm of your hand. What you eat should be of equal or lesser size. Remember, your stomach is not that big and you do not want to overwhelm your system.
Holidays call for the finest cuts of meat. These cuts of meat are the most tender parts of the cow because they are muscles that are least used. They consist of the rib and the tenderloin, located on the ribs of the cow. This would be considered the Prime Rib and the Filet Mignon.
When searching for the finest cuts of meat look for a bright red color (unless cryovacked then it might be purple). And you want it to be soft but firm to the touch.
A good test shared by one of Italy's finest Chefs, Valter Roman of the Tuscan Chef Cooking School, is if you can put your thumb nail into the beef and when you remove your thumb the imprint of your nail remains in the meat for a few seconds.
It should smell clean and a bit sweet. The blood that comes from it should be red in color and not brown. Choose the smaller end of the Rib for a better proportion to fat to meat ratio.
Methods of cooking Prime Rib can vary but the fail-proof method below is one that is tried and true. This method, although unconventional, requires mere trust and patience and the result will be worth the effort.
Prime Rib Method
Allow your Prime Rib to come as close to room temperature as possible.
Preheat to 500 degrees
Either you or your butcher take the meat off of the bone but tie the meat back onto the bone with butchers twine to retain the flavor and tenderness.
Salt, pepper and add a small layer of olive oil to the meat
Place the Prime Rib into the 500 degree oven
Roast it for 7 minutes per pound at 500 degrees (5 pounds =35 minutes)
Then turn the oven off but, NO matter what, DO NOT OPEN THE OVEN for 1 hour
After 1 hour remove from the oven and let it rest for 10 minutes and then slice. Perfect every time for medium rare.
Figgy Pudding
Ingredients:
1 1/2 cups chopped dried pitted dates
1/2 cup chopped dried figs
2 cups water
1 teaspoon baking soda
100 grams (3 1/2 ounces or 7 tablespoons) butter, softened
1 cup superfine sugar
2 eggs
2 1/2 cups self-rising flour
75 grams (2 1/2-ounces) dark chocolate, grated
Butter, for coating ramekins
Ice cream or whipped cream, for garnish
Sauce:
2 cups brown sugar
2 cups heavy cream
200 grams (7-ounces or 14 tablespoons) butter
Fresh figs, quartered, for garnish
Vanilla ice cream, optional
Whipped heavy cream, optional
Directions:
Preheat the oven to 350 degrees F.
In a medium saucepan combine dates, dried figs and water and bring to boil.
Remove the pan from the heat and stir in the baking soda. Let cool for about 5 minutes and puree in a blender to a smooth consistency.
Cream the butter and sugar in a large bowl; when creamy add the eggs, folding in the flour, the pureed date mixture and the chocolate.
Divide the batter into four buttered, one-cup ramekins on a tray and and bake for 20 to 25 minutes.
Prepare the sauce by stirring sugar, cream and butter in a medium saucepan over low heat. Simmer until the sugar dissolves bringing to a boil, then reduce the heat and simmer for 5 minutes.
Add the butter and stir until incorporated.
Remove the ramekins from the oven and let stand for 10 minutes. May be served in the ramekin or unmolded onto a small serving plate. With paring knife cut a cross in the top of the puddings for the sauce.
Top with fresh figs and vanilla ice cream or heavily whipped cream. Serve warm.
Happy Cooking!
Chef Mary
Read Chef Mary's "How to Cut a Rack of Lamb"
For more great Chef Mary's Cooking Tips, Recipes or Stories- Please go to my blog or to find out more information about Chef Mary please go to her Hail Mary's Inc website or email her questions for Ask Chef Mary Friday's at mary@hailmarysinc.com.
Also Check out Chef Mary's New Webisode on You Tube about Supporting Local Farmers!
You can also follow her on Facebook and Twitter!
---
This article is the copyrighted property of the writer and Communities @ WashingtonTimes.com. Written permission must be obtained before reprint in online or print media. REPRINTING TWTC CONTENT WITHOUT PERMISSION AND/OR PAYMENT IS THEFT AND PUNISHABLE BY LAW.