Forbidden Rice with Shrimp and a Walnut Lemon Glaze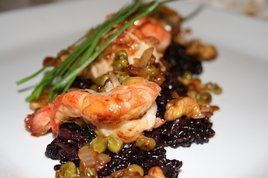 Serves 2
Cooking Time 45 minutes
Forbidden Rice
1-tablespoon olive oil
½ small diced yellow onion
1 cup forbidden rice
1 ¾ cup water
½ cup white wine
1 bay leaf
2 sprigs thyme
1-tablespoon butter
Salt and pepper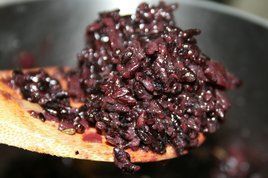 In a hot saucepot, add the olive oil and onions and season with salt and pepper. Wait until they are aromatic and then add the forbidden rice. Toast for a few minutes and then remove the pan from the fire and add the white wine. Pour the wine into the pan and then place it back on the fire (medium low). Reduce the wine so there's nothing left in the saucepot and then add the water, bay leaf, thyme and salt and pepper. Simmer for 30 minutes. Finish with butter and season with salt if needed. Set aside.
Shrimp with a Walnut Lemon Glaze
½ small diced yellow onion
1 tablespoon of olive oil
10-12 large or jumbo shrimp, tail on
¼ cup frozen or fresh peas
1/2 lemon juiced
1/8 cup roasted walnuts loosely chopped
¼ cup white wine
2 tablespoons butter
Garnish of chives
In a large sauté pan on medium high heat, add olive oil. Sauté the onions until glossy and season with salt and pepper. Next, add the shrimp and cook for a few minutes. Off the heat, add the white wine and then place back on a medium low heat. Reduce ¾'s then add the peas. Continue to cook for a few more minutes until shrimp are cooked through. Finish with roasted walnuts and off the heat stir in the butter. Spoon the shrimp over the forbidden rice. Garnish with chives.
Happy Cooking!
Chef Mary
For more great cooking tips, recipes and stories from Chef Mary,visit her blog. To learn more about Chef Mary, check out her Hail
Mary's Inc. Web site. E-mail questions for Ask Chef Mary Fridays to mary@hailmarysinc.com or click the Ask Chef Mary link above.
Check out Chef Mary's Webisode on You Tube! You also can follow her on Facebook and Twitter!
The information provided is general information about healthy eating. It is not intended as a substitute for the advice or treatment that may have been prescribed by your physician or other health care provider. Always consult a physician before starting any new diet or regimen.
---
This article is the copyrighted property of the writer and Communities @ WashingtonTimes.com. Written permission must be obtained before reprint in online or print media. REPRINTING TWTC CONTENT WITHOUT PERMISSION AND/OR PAYMENT IS THEFT AND PUNISHABLE BY LAW.