OKLAHOMA CITY (7/30/10) - Fans and critics made a big deal this week when Dallas Cowboys first round draft pick Dez Bryant refused to carry fellow receiver Roy Williams' shoulder pads after practice. Bryant claims that they brought him to Dallas to play football, not carry other player's equipment.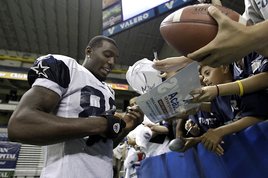 This is all apart of a tradition called rookie hazing.
I've watched every season of HBO's Hard Knocks and every year the show features some aspect of rookie hazing.
We've seen guys get taped to the goal posts and have ice dumped on them or have to make a run to a restaurant for a certain type of food. All of it is harmless and usually done with a smile on their faces.
Even number one over all draft picks that play for the Clippers aren't immune to rookie hazing.
"I had to get Krispy Kremes before every home game," Los Angeles Clipper Blake Griffin told me. "The worst part was the Krispy Kreme was located 20 minutes one way, while the arena was 20 minutes the other way from my house. But it was no big deal."
"I'm glad I'm not doing it next year," Griffin added.
Some players even see it as a badge of honor. Kelvin Garmon was a seventh round draft pick in the 1999 NFL Draft.
"When I carried Emmit Smith, Larry Allen and other's pads and water, I felt like I made it," Garmon said. "I humbled myself, sang my school song and became part of them team."
As silly as the rituals are, you can't put a price on camaraderie and becoming a team.
Bryant claims he didn't know that it was a tradition and I'm sure that's true. I think this story and rookie hazing are one in the same: It's not really that big of a deal.
Often times media people, myself included, have never played sports past high school or college. So when we hear about stuff like this we are quick to judge and have an opinion about whether hazing is oaky.
The truth is I think this story might be bigger than it is because of the players involved. Williams hasn't exactly lived up to his billing or his contract. It's very possible that Bryant will take his job.
It will be interesting to see how that plays out. It will also be interesting if Bryant asks someone to carry his pads next year. I have a feeling, after all this, he knows the tradition now.
Jason Black is a regular sports contributor on America's Morning News and coincidentaly, or not, does movie reviews for KJ103 and 102.1 Kiss'n Country.
You can also follow Jason on Twitter @jasonblack23.
---
This article is the copyrighted property of the writer and Communities @ WashingtonTimes.com. Written permission must be obtained before reprint in online or print media. REPRINTING TWTC CONTENT WITHOUT PERMISSION AND/OR PAYMENT IS THEFT AND PUNISHABLE BY LAW.