Rumors were swirling Tuesday that Minnesota Vikings quarterback Brett Favre has retired. Again. Favre has had a history of fickleness on the matter, but the timing couldn't be much worse for the team.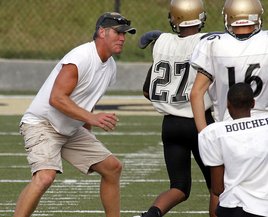 LeBron James was widely criticized for his "Decision" to go play for the Miami Heat instead of the his hometown Cleveland Cavaliers. Although Favre isn't from Minnesota, the way he has handled his decision couldn't be worse.
The knock on LeBron is that he stabbed his home state in the back and on national television no less. Cold? Yes. But at least he did it within a week of becoming a free agent. The Cavs no doubt will not be as good next year without LeBron, but Cleveland has a few months to make some moves and put something together. I realize that is difficult to do, but they have time.
The NFL season starts in a little over a month. The Vikings have no time to do anything. Maybe that is partially their fault, but Favre's past antics led most of us to believe he was coming back.
LeBron might arguably be the best player in the NBA, but in basketball there are four other guys on the court. The quarterback is no question the number one position on a football team.
Sure the Vikings have Adrian Peterson and Percy Harvin, and teams have won Super Bowls without having an elite quarterback. In the seasons leading up to Favre joining the team, the Vikings were 6-10, 8-8 and 10-6. With Favre they were 12-4 and one play away from competing in a Super Bowl.
This deal isn't done yet. Favre hasn't actually come out officially and said he is retiring. And really, even if he does it doesn't mean anything. He's retired twice before.
Whatever his final decision is, it's not fair to hold the team hostage. It's time for Favre to make his decision, stick with it and quit goofing around.
---
This article is the copyrighted property of the writer and Communities @ WashingtonTimes.com. Written permission must be obtained before reprint in online or print media. REPRINTING TWTC CONTENT WITHOUT PERMISSION AND/OR PAYMENT IS THEFT AND PUNISHABLE BY LAW.