Washington, D.C. — Honoring Greek Independence Day on March 25th, the White House has invited Iron Chef Cat Cora to wo-man the steel tables of the first kitchen.
Creating a Greek inspired luncheon for 350 people on Tuesday, March 9th. Chef Cora will be preparing an authentic Greek spread, including a variety of Lenten foods honoring those Greek Orthodox guests that are present.
"I received a call from Father Alex Karloutsos (Greek Orthodox Archdiocese of America) and he informed me that the White House was interested in me for the position of cooking for the Greek Independence Day at the White House," said Chef Cora. "I of course, said, YES! Sign me up!"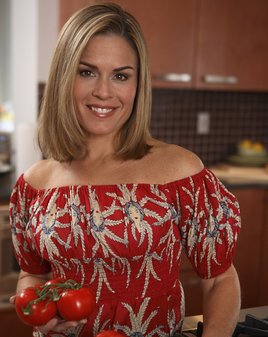 Chef Cora was raised in a small Greek community in Jackson, MS where cooking and eating are a part of life. Combining the spices and regional foods of the American south with fresh sheep and goat cheese and home-cured olives sent by relatives on the island of Skopelos, combined the flavors of her home with her heritage.
Recently Chef Cora opened Kouzza a Mediterranean-style restaurant at Walt Disney's World's Boardwalk resort.
"For the White House dinner I am preparing a whole Greek menu with delicious lamb chops with feta herbed sauce, dolmas with black truffle avgolemeno and tuna tataki "gyros" to name a few of the dishes," Chef Cora says. "And wonderful desserts! I am bringing a lot of unique ingredients such as black truffles in a avgolemeno, tataki style tuna for lettuce gyros, feta cheese in a chimichurri for the lamb chops and some of the really special ingredients I bring to the Greek foods I prepare."
When asked, Chef Cora said her favorite flavors are sweet and salty and my guess is the First Family is in for an incredible treat.
In my world chefs are rock stars and if asked which celebrity chef kitchen I would most like to dine from, Chef Cora's would be a the top of that list.
She is incredible to watch and seems to have a well-balanced life that transfers to the incredible plates I have enjoyed watching her prepare.
Chef Cora was fortunate enough to have Chef Julia Child as her mentor, who encouraged her to move to New York and school at The Culinary Institute of America, where she apprenticed and worked with Chef Anne Rozenweig at Arcadio and under Chef Larry Forgione of An American Place.
Moving her education to Europe, Chef Cora's skills were further honed working with two of France's three-star Michelin Chefs, George Blanc of Vonnas and Roger Verge, whom she credits with not only showing her classical French cuisine, but also mentored the young chef in "embracing life and living it to the fullest."
Chef Cora's culinary pedigree was further established as sous chef at The Old Chatham Shepherding Company with Chef Melissa Kelly and as Chef de Cuisine for Napa Valley's Bistro, Don Giovanni.
Chef Cora is probably most famous for her work on the Food Network hosting a variety of shows including My Country My Kitchen: Greece, Date Plate and Fine Living's Simplify your Life.
Chef Cora is also a fifteen-time winner of the popular Iron Chef America show where she is one of the shows Top Iron Chefs, an honor role that includes Bobby Flay, Masaharu Morimoto, Jose Garces, Michael Symon and Mario Batali.
Chef Cora appeared and won against Chicago's Chef Todd Richards (2008), one of her fifteen wins and when the secret ingredient was carrots and again and incredible show worth finding and watching on You Tube, Chef Cora working with Chef Morimoto against Chefs Symon and Flay for the 2009 Battle First Thanksgiving.
Chef Cora is also a cookbook author and, more importantly a philanthropist: Chef Cora is president and founder of Chefs for Humanity that she began in response to the 2004 Asian Tsunami. Working diligently to help fund and feed where the needs are greatest, Cat Cora will be hornored at The Human Rights Campaign dinner.
Rock star indeed.
Jacquie Kubin is a 15-year, award-winning veteran of travel and culinary writing. Today, Jacquie edits and directs a staff of writers for Donne Tempo Magazine, where you can read more of her entertainment, travel and culinary reviews. Jacquie is always looking for new talents who want to expand their horizons. E-mail Jacquie with ideas, questions or to share your writing dreams. Follow Donne Tempo on Twitter and Facebook.
---
This article is the copyrighted property of the writer and Communities @ WashingtonTimes.com. Written permission must be obtained before reprint in online or print media. REPRINTING TWTC CONTENT WITHOUT PERMISSION AND/OR PAYMENT IS THEFT AND PUNISHABLE BY LAW.